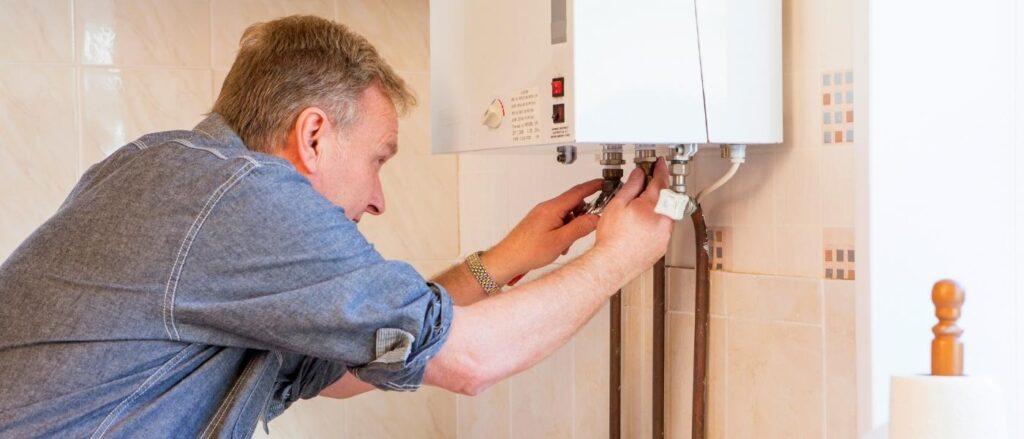 The simple answer, no. There are many DIY-friendly facets around the house, but boilers simply aren't one of them. The do-it-yourself approach is popular for a number of reasons; it's seen to save money and it's also satisfying when you, yourself, repair or fix something that's gone wrong with your house.
If it's a wobbly banister, a new light bulb, or a fresh lick of paint, then DIY is a great choice. But, when it comes to boilers, DIY doesn't stand up well against the risks you take.
Despite being the number one provider of new boiler installations in Birmingham and throughout the West Midlands, there's no denying that when you're faced with the cost of a boiler installation, it can be a bit of a shock to the system. We fully understand this. The reality, though, is that boilers cost a lot – and there's no getting around it.
Because of the alarming price tag, many people choose to install boilers on their own. There are, however, a number of reasons why we, and nearly all boiler installation providers, advise against this approach. Here's why.
You May Not be 'Competent' in this Field
You may be thinking: so what? I'm not qualified to do a lot of things around the house, but I still get them done. This is probably true, but again, boilers are different. In this instance, a lack of competence with gas-related issues underpins all the other risks you take when installing a boiler by yourself.
To install boilers, you must be Gas Safe Registered. This is the qualification that all boilers have and, if they don't, should have. Gas is a complex issue that requires extensive training to fully understand it and acquire this qualification; it's essentially illegal to handle gas in your house without one.
It's dangerous installing your own boiler
Without the right experience or expertise, you risk making your boiler susceptible to a number of dangerous faults – things, like gas leaks, explosions, or carbon monoxide poisoning. A poorly-fitted boiler will only increase the chances of this occurring. Boilers are a whole new challenge compared to other plumbing issues. In other minor cases, you may be hit with a face full of water if loosening the wrong pipe; with boilers, the consequences are far more serious.
The worst thing about carbon monoxide leaks is that they are rarely visible. There isn't a hazy color or smell to indicate that something is wrong, which makes them far more deadly. If your new boiler isn't installed correctly, you may very well experience one. These sorts of things should hopefully put things into perspective. Yes, you may be saving money by doing it yourself, but you will only be putting your family's safety at risk.
You Risk Losing Your Warranty
A warranty is a must-have when it comes to boilers. Boilers are like cars: an expensive investment that's dependable and stands the test of time. But just like our motors, boilers need to be kept in shape and things will go wrong from time-to-time. A manufacturer warranty ensures that if your boiler goes kaput, they will be on hand to fix or replace your boiler for no extra cost.
A generous warranty is a gold dust in the world of boilers. Most manufacturers will, however, include a clause in their warranty that states all boilers must be fitted by a qualified, professional engineer. If, for example, you choose to install your boiler by yourself, you risk breaching the warranty and missing out on the fantastic breakdown cover.
Installing your own boiler may not Comply with Building Regulations
It is a legal requirement that all boiler installations must comply with the building regulations. Even if you choose to carry out the installation yourself, you still have to get it checked and signed off by the local authority. Why take the risk?
If your boiler is not installed in-line with local building regulations, you risk receiving a hefty fine. All of this can be avoided with a trusted and qualified Gas Safe Registered engineer. They're able to self-assess and self-certify their own work, making everything a lot easier – sometimes cutting corners, only makes things a lot harder.
Installing your own boiler Will Cost You More Down the Line
The DIY approach to boiler installation may seem like a great idea at the time – but it's a costly mistake, that will be felt a lot further down the line. You may think you're saving yourself a tonne of money by doing it your own way, but an incorrect installation will cost thousands of pounds. Loose fittings or a lack of competence will only lead to leaks, faults, and potentially dangerous consequences. The long-term financial implications will easily outweigh that initial budget cost.
The Best Option
It's no surprise that every boiler installer, provider or plumber up and down the country will tell you the same thing: get a qualified engineer to install your boiler. Gas is not something you can afford to fiddle around with – both from a financial and health and safety standpoint. Try our in-depth questionnaire to find out which boiler is for you and at what price!
Don't fall for the DIY trap; get a professional to do the job for you. You can rest assured that your boiler will be fitted perfectly, with no gas leaks or potential explosions.
If you live in the West Midlands; whether it's Worcester, Hereford, or Cheltham Boiler Installation, you are looking for, we have got you covered. Make the easy choice and, above all else, the right choice.