One of Europe's oldest, most-established heating companies, Vaillant is something of an "old master" when it comes to the world of boilers. Just because they're an old company, though, doesn't mean that they're stuck in the past – far from it! In fact, Vaillant arguably leads the way when it comes to developing ultra-efficient boilers; in today's increasingly climate-conscious world, that's a particularly big tick in their favour.
The EcoTEC Plus 825 combi boiler from Vaillant is one such machine with impressive lean, green credentials! So, today we're going to be putting it through its paces, reviewing it and seeing where it does well, as well as areas it might potentially lose ground to its other competitors. Read on!
Why Choose the EcoTEC Plus 825?
First, then, it's worth looking at some of the key features this boiler boasts, and how that compares against other similar boiler products on the market. Its key features include:
Vaillant | EcoTEC Plus 825 | Between £1,000 and £1,500

Warranty

:

standard 5-year warranty for peace of mind

ErP rating

:

almost 90% ErP (efficiency) rating for both space heating and water heating – giving it an A grade for efficiency

Kilowatt output

25.4 (which is more than adequate for single-bathroom homes, and homes with up to 12 radiators)

Hot water delivery

:

under five seconds – no need for a hot water tank!

Flow rate

:

an impressive 10.5 litres per minute!

Quiet Mark

accreditation

:

this boiler runs at a very low noise level (under 50 decibels, in fact)

Design

:




Sleek, stylish contoured design making it an ideal fit for almost every home, style wise

Weight

:

36Kg – lighter than many other combi boilers

Unit cost

:

between £1,000 and £1,500 (depending on retailer). Factoring in installation costs will lead to an overall price of between £2,000 and £2,500

Smart thermostat compatible?

Yes
Pros: Solid warranty, nice design, very impressive efficiency, good flow rate and incredibly quiet.
Cons: Not as powerful as some combi boilers, bulkier dimensions than comparably-powered boilers.
As you can see, then, this option from Vaillant is a highly attractive model; efficient, unintrusive and with decent levels of performance, it is a very solid boiler to prompt for. It's not perfect, though, and it does have some limitations/drawbacks.
If you have a larger home, then it might be worth looking at Vaillant's other boilers in its ecoTEC range, rather than the Plus 825, as they offer larger Kilowatt outputs. Unlike the Plus 825 model, which has an output of 25kW, Vaillant also manufactures ecoTEC models producing 32kW, 35kW and 38kW output.
If you're unsure what size boiler you might require, then get in touch with a boiler installer or engineer, and they'll quickly be able to gauge what size boiler is right for your home by asking a few simple questions, such as how many bathrooms and radiators your home has.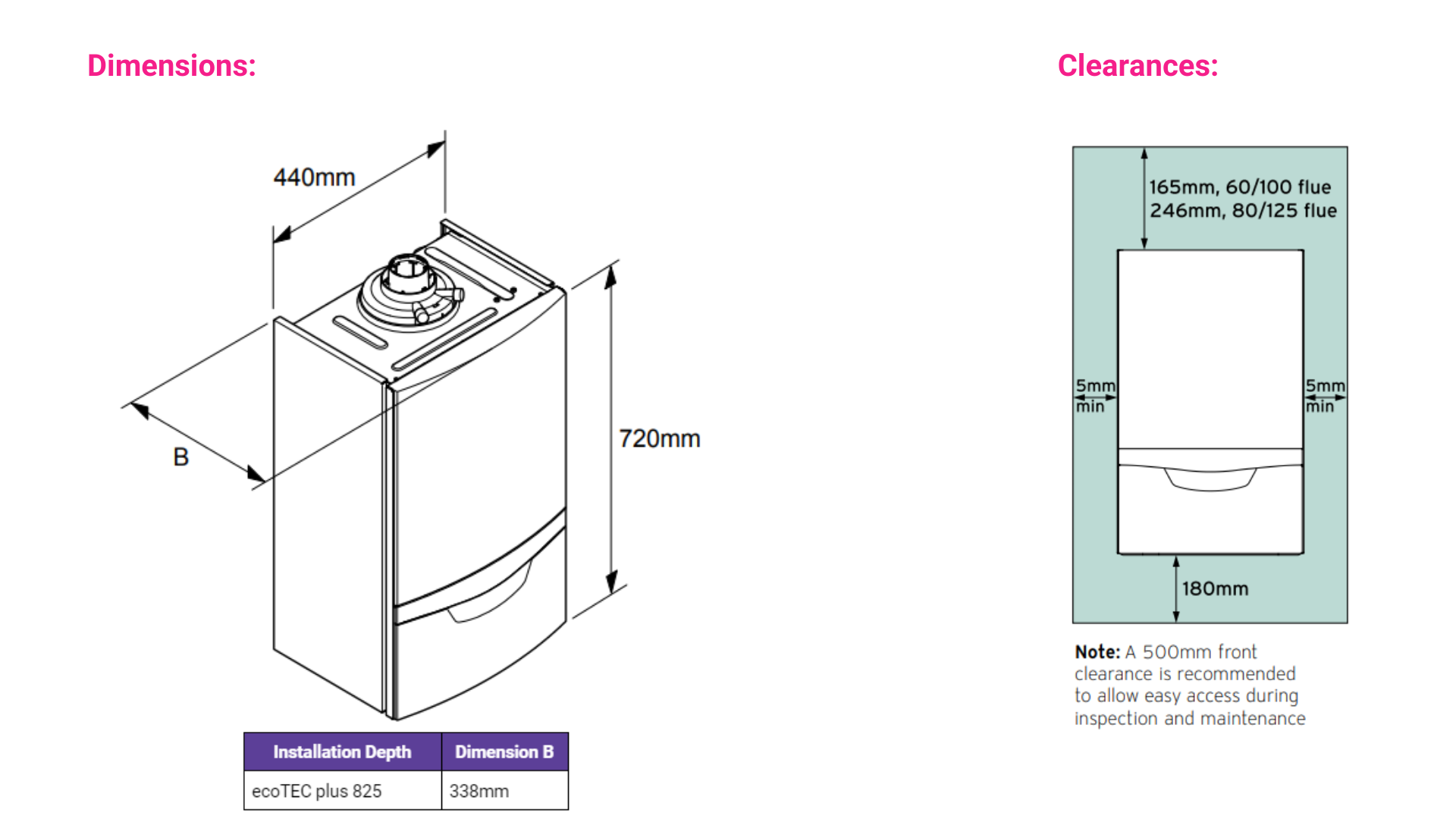 Another mark potentially against the Plus 825 is its size; whilst (as we said in the key features section) it's a fairly light boiler, it's somewhat chunkier in terms of its dimensions. Coming in at 720mm x 440mm x 330mm, it's by no means a massive boiler, but there are definitely some smaller equivalent-power combi boilers out there.
This might be a consideration if space is at a premium in your home. All in all, however, the Plus 825 is a no-thrills, but highly reliable boiler, that'll stand most smaller homes in good stead for many years, and will do so without breaking the bank.
Are Vaillant Boilers Reliable?
Given their long and successful history, as well as their continued position as one of the European boiler industry's genuine leaders, Vaillant is one of the most trustworthy boiler manufacturers you can choose.
With an impressive TrustPilot score of 4.6 (from over 16,000 reviews) Vaillant are as reliable as a manufacturer as their boilers are efficient. Still need convincing? Well, the Vaillant scored an impressive 80% from consumer giant Which when it came to its overall brand score!
Are There Other Similar High-Efficiency Boilers Out There?
Unsurprisingly, Vaillant's main competitor when it comes to its high-efficiency boiler range is the other industry leader, Worcester Bosch. Whereas Vaillant has its ecoTEC range, Worcester Bosch has the Greenstar range.
For what it's worth, the two boiler ranges are much of a muchness when it comes to their performance credentials; the Worcester Bosch Greenstar 4,000, for instance, is the brand's most comparable model with Vaillant's ecoTEC Plus 825, and both of them score similarly in virtually all areas.
They have almost identical kW outputs, they both score A ErP ratings (meaning they're both highly efficient) and they both offer hot water flow rates of over 9 litres per minute. Price-wise, they're also comparable, so whichever you choose, you know you'd be getting a good boiler.
If you're in the market for a boiler replacement, then you could do far worse than looking at the Vaillant ecoTEC Plus 825 combi boiler as the one to go for. Perfect for smaller (and certain mid-sized) homes, this ultra-efficient boiler (complete with all the modcons) will last you for years and years; and should anything ever go wrong (which it isn't likely to) then you're covered by the standard 5-year warranty from the manufacturer, too!
Interested in getting a Vaillant EcoTec Plus 825 Installed or any other Boiler?
If so, head over to our Ecotec 825 product page to book us in for an installation or try our Boiler Choice software which will match you with the perfect boiler if you are unsure if the Ecotec 825 is right for you.

Or, if you have found yourself with some questions that need answering after reading this? Well, why not give one of our team at Boiler Choice a call on 0800 112 3433. Alternatively, you can send us an email at [email protected].