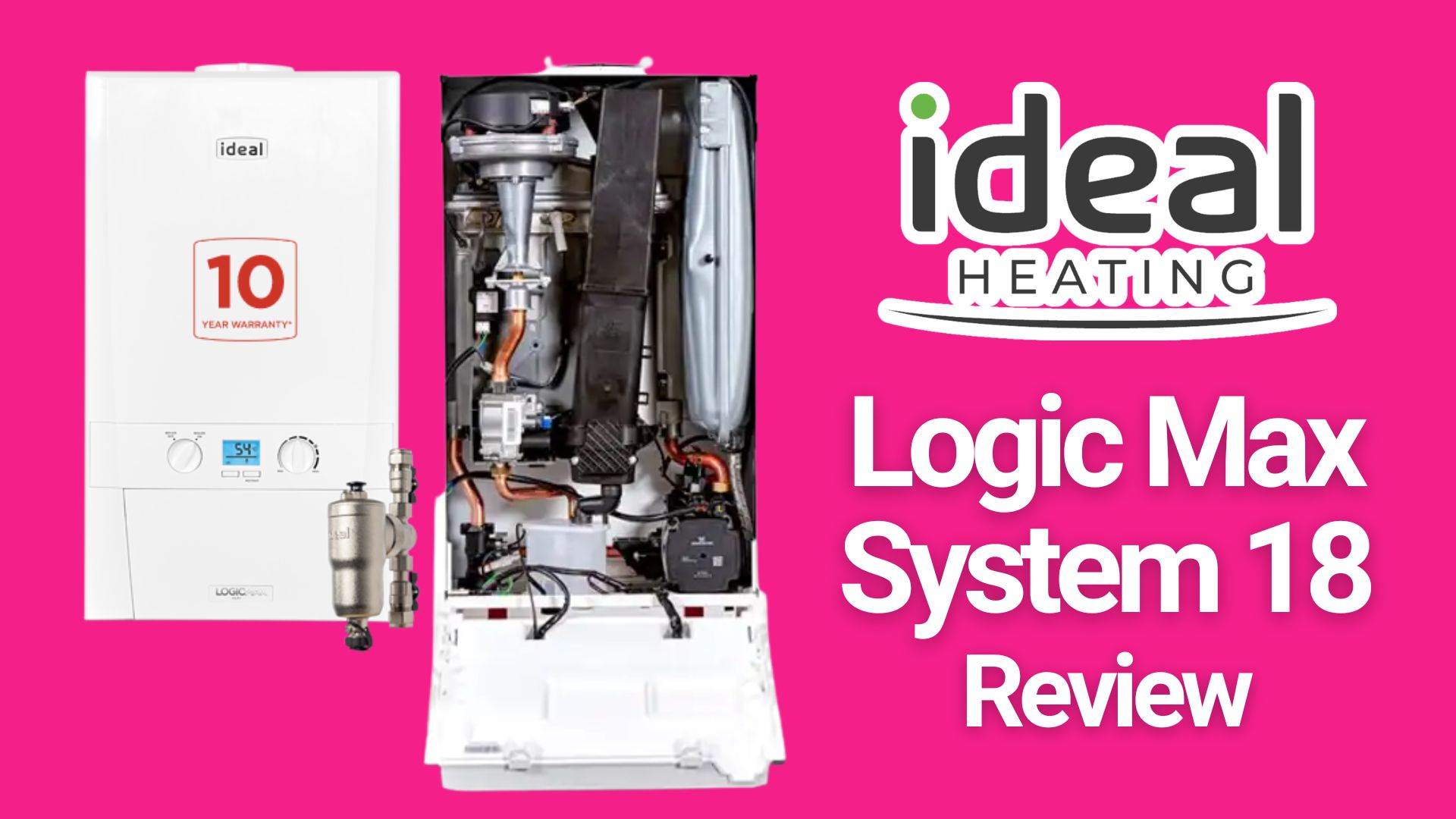 Known for being an affordable alternative to other popular boiler brands, like Vaillant or Worcester Bosch, Ideal offers both energy-efficient and reliable boilers at a price that won't break the bank. The Ideal Logic Max System 18 is an A-rated boiler model that's suitable for apartments, as well as small and medium-sized homes. Belonging to one of Ideal's best-selling ranges, keep reading to see if this is the system boiler your home needs.
Why Choose the Ideal Logic Max System 18?
Coming with an efficiency rating of 93%, the Ideal Logic 18kw system boiler works hard to reduce your energy bills. It's a lightweight and compact model, as well as being easy to install. Thanks to its large, backlit display, the ease of use continues after installation too. 
Some of its key features are as follows:
| Price | £1025 |
| --- | --- |
| Warranty | 10-year warranty |
| ERP Rating | A |
| Efficiency Rating | 93% |
| Output | 18kW |
| BTU | 60,000 |
| Quiet Mark Accreditation | Yes |
| Boiler Size (H x W x D) | 700 x 395 x 278 mm |
| Boiler Weight | 31.5kg |
| LPG Compatible | No |
| Condensing | Yes |
| Mounting | Wall-Mounted |
When it comes to how many radiators the Ideal Logic 18 System can heat, it would be best suited to homes with around 10 radiators. In terms of property sizes, it's best matched to small and medium-sized homes with one bathroom. 
Further cementing its green credentials, it comes with an 18kW output that can work to lower your energy bills, but being at the lower end of the output scale, it will perform at its optimum for those with lower heating and hot water demands. 
Coming in a scratch-resistant, durable casing, it's well protected from damage but also benefits from being lightweight, compact and frost-resistant, too. The Ideal Logic Max S18 benefits from a 10-year warranty as standard which offers further reassurance towards its reliability (as well as peace of mind) that it's covered should it develop a fault. 
Some further factors to consider include:
Comes with boiler frost protection
Compact installation, the S18 can fit in a kitchen cupboard
Compatible with Ideal heating controls
Not solar panel compatible
Can't be used with LPG
Requires a separate hot water cylinder
Is the Logic Max System 18 Boiler Reliable?
The Ideal Logic Max range is known for being a reliable range of boilers, and one that's billed as the brand's premium line. There are a whole heap of features and benefits including a 10-year warranty, built-in frost protection, and scratch resistant casing. If one thing's for certain, it's that these boilers are built to last.
Are There Any Alternatives?
Some alternative brands that you might want to consider over the Ideal Logic Max System boiler include both Glow-Worm and the Worcester-Bosch range. See our handy table below comparing key features of the various brands' 18kW boilers:
| Brand | Ideal Logic Max S18 | Glow-Worm Energy 18s | Worcester Bosch Greenstar 4000 System Boiler |
| --- | --- | --- | --- |
| Price | £1025 | £1,127 | £1,245 |
| Output | 18kW | 18kW | 18Kw |
| ERP rating | A | A | A |
| Energy Efficiency Rating | 93% | 93% | 94% |
| Size (H x W x D) | 700 x 395 x 278 mm | 700 x 390 x 280 mm | 724 x 400 x 310 mm |
| Weight | 31.5kg | 32kg | 33.2kg |
| Warranty | 10 years | 7 years | 5 |
| Noise level | 44dB | 49dB | 42dB |
| Wall Mounted | Yes | Yes | Yes |
The Ideal Logic Max System 18 does offer some advantages over the Glow-Worm and Worcester Bosch models in that it has a far longer warranty and is the most compact of them all. Whilst the Worcester-Bosch is marginally quieter than the Ideal model, it's also over £200 more expensive and , in real terms, there's actually very little difference between the two.
Frequently Asked Questions (FAQs)
How Long Does an Ideal Logic System Boiler Last?
The Ideal Logic Max System 18 should last between 10-15 years if it is regularly serviced. We would recommend a yearly service to ensure it works to the best level possible. Boiler technology evolves constantly so it is recommended that you upgrade your boiler every 15 years to ensure energy efficiency and to help keep your bills low!
Is the Ideal Logic Max System 18 a Noisy Boiler?
The entire Ideal Logic Max System range is quiet mark accredited and is known for its ultra-quiet performance. With a noise level of only 44dB, the Max System 18 will heat your home seamlessly without the worry of hearing its every working.
Billed as their premium line, you can't go far wrong with an Ideal Logic Max System 18 boiler. It's a highly-efficient system from a market-leading brand. Compact in size, with plenty of high spec features, including the Ideal heating controls, this boiler will raise the temperature of your home and lower your bills all in one go! What's not to like?
Interested in an Ideal Logic Max System 18 Boiler?
Head over to our product page to book an installation. Not sure whether this is the boiler for you? We've got plenty of options so try our Boiler Choice software to pick the perfect match for your home.