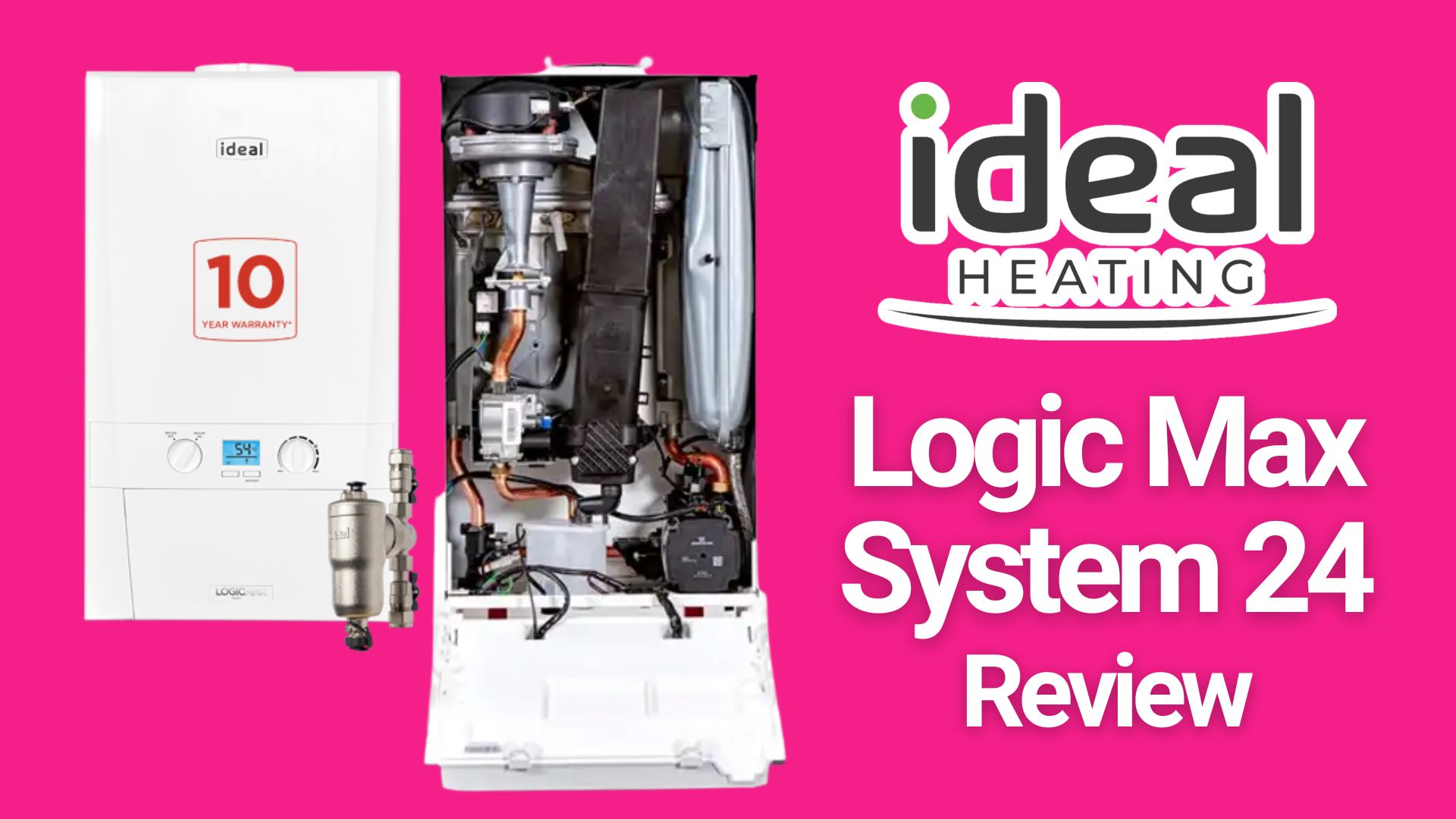 Ideal is a key player in the boiler industry world, known for its affordable yet reliable heating systems that suit a wide range of homes. The Ideal Logic Max System 24 is considered an entry-level boiler within the Max System range but by no means does that mean you should underestimate its capabilities.
Highly efficient, this gas boiler offers an A-rated energy band and a long warranty, all at a purse-friendly price point, too. If you are in the market for a new system boiler, check out our reasons for why this is a great option!
Why Choose the Ideal Logic Max System 24?
Compact in size, this reliable and highly-efficient model from Ideal has a 94% energy rating, providing savings on your heating bill! It's ideal for both new and direct swap installations, and with user-friendly controls and a large, backlit display, it's easy to install and use post-fitting. 
If you're thinking about how many radiators this Ideal Logic 24 system can heat, then it's capable of warming between 10-15 radiators, meaning it is best-suited to smaller properties.  Some of its key features are as follows:
| Price | £1201.08 |
| --- | --- |
| Output | 24kW |
| Warranty | 10 years |
| BTU | 80,000 |
| Boiler size (H x W x D) | 700 x 395 x 278 mm |
| Fuel type | Gas |
| Energy Rating | A |
| Efficiency rating | 94% |
| LPG compatible | No |
| Quiet Mark Accredited | Yes |
| Mounting | Wall-mounted |
| Condensing | Yes |
This condensing system boiler is lightweight and compact, making it quick and easy to install, as well as having full compatibility with the Ideal Heating controls range, which makes ongoing use just as simple. 
With built-in boiler frost protection, you'll have no heating concerns over the winter months, even if you have this system fitted in a loft or garage space.
The Boiler Unit, Itself, is Nice and Compact
This Ideal boiler is highly compact in size, meaning it can easily fit into a cupboard or other small space within your home.
The Logic Max System 24 will indicate when it's in need of a service, meaning you'll easily be able to keep it in tip-top shape and get the best use out of it as possible.
A 10-year warranty ensures that in the (highly unlikely) event your Ideal boiler encounters any faults, issues or failures, you'll be covered for replacements and repairs. Which, given the cost of living crisis at the moment, is a big plus.
Although the boiler itself benefits from being compact, a system boiler requires a separate cylinder for storing hot water. This can take up a large amount of space particularly if you don't have an airing cupboard.
If you are an off-grid home, then this system boiler is not for you as it isn't compatible with LPG fuel sources. LPG compatible boilers have the capability to be powered by petroleum gas from a storage tank, but the Ideal Logic S30 will only work with gas mains.
Can't Be Used With Solar Panels
There's a whole heap of savings to be had if you've got solar panels fitted to your home that can help to fuel a property and save on energy bills. Sadly, the Ideal Logic Max System 30 isn't compatible with solar panels and if you have them fitted, you may benefit from a different boiler, instead.
What are the Alternatives?
The UK's top manufacturer of boilers is Worcester Bosch who are known for their premium home boiler systems. Here we compare their 24kw system boiler offering with Ideal Logic's offering:
| Brand | Ideal Logic Max S24 | Worcester Greenstar 4000 24kW |
| --- | --- | --- |
| Price | £1201.08 | £1347 |
| Output | 30kW | 24Kw |
| ERP rating | A | A |
| Energy Efficiency Rating | 94% | 94% |
| Size (H x W x D) | 700 x 395 x 278 mm | 724 x 400 x 310 mm |
| Weight | 26.1kg | 33.2kg |
| Warranty | 10 years | 7 years |
| Wall-Mounted? | Yes | Yes |
Many of the technical specs offer little to no difference, so if you're after a truly premium boiler, then maybe opt for the Worcester Bosch choice. To save yourself a few pennies, however,  and have the reassurance of a longer guarantee, the Ideal Logic Max S30 is a great option that's also more compact to fit in with smaller homes. 
It's also important to note that Worcester Bosch uses aluminium heat exchangers that are less resistant to rust than the stainless steel exchangers used in Ideal boilers. As such, you are likely to get more longevity from this part in an Ideal boiler when compared with the Worcester Bosch designs.
Frequently Asked Questions (FAQs)
How Long Does an Ideal Logic System Boiler Last?
On average, the life span of your Ideal Logic boiler should be around 10-15 years. Yearly services will ensure it is well-maintained and performs at its optimum, prolonging the boiler's life span. Once you've had your system boiler for 15 years, you should consider an upgrade, particularly with the constant progressions in boiler technology, as this will ensure ultimate energy-efficiency.
Are Ideal Logic Boilers Loud?
The Ideal Logic Max System 24 has been accredited by Quiet Mark which means it has been scientifically tested to assess its performance as a low noise appliance.
So, if you've been scratching your head recently, and asking yourself the question, "Are Ideal Logic boilers any good?" then the answer is a resounding yes! The Ideal Logic Max System 24 boiler is a cost-effective model that offers affordability, energy efficiency, and great aftercare in the form of its warranty. Replacement boilers don't need to cost the earth, and this model reinforces that point!
Interested in Getting an Ideal Logic Max System 24 Boiler Installed?
If so, head over to our product page to book us in for an installation. Not sure this is the boiler for you? We've got plenty of choices so try our Boiler Choice software to pick the perfect match for your home.