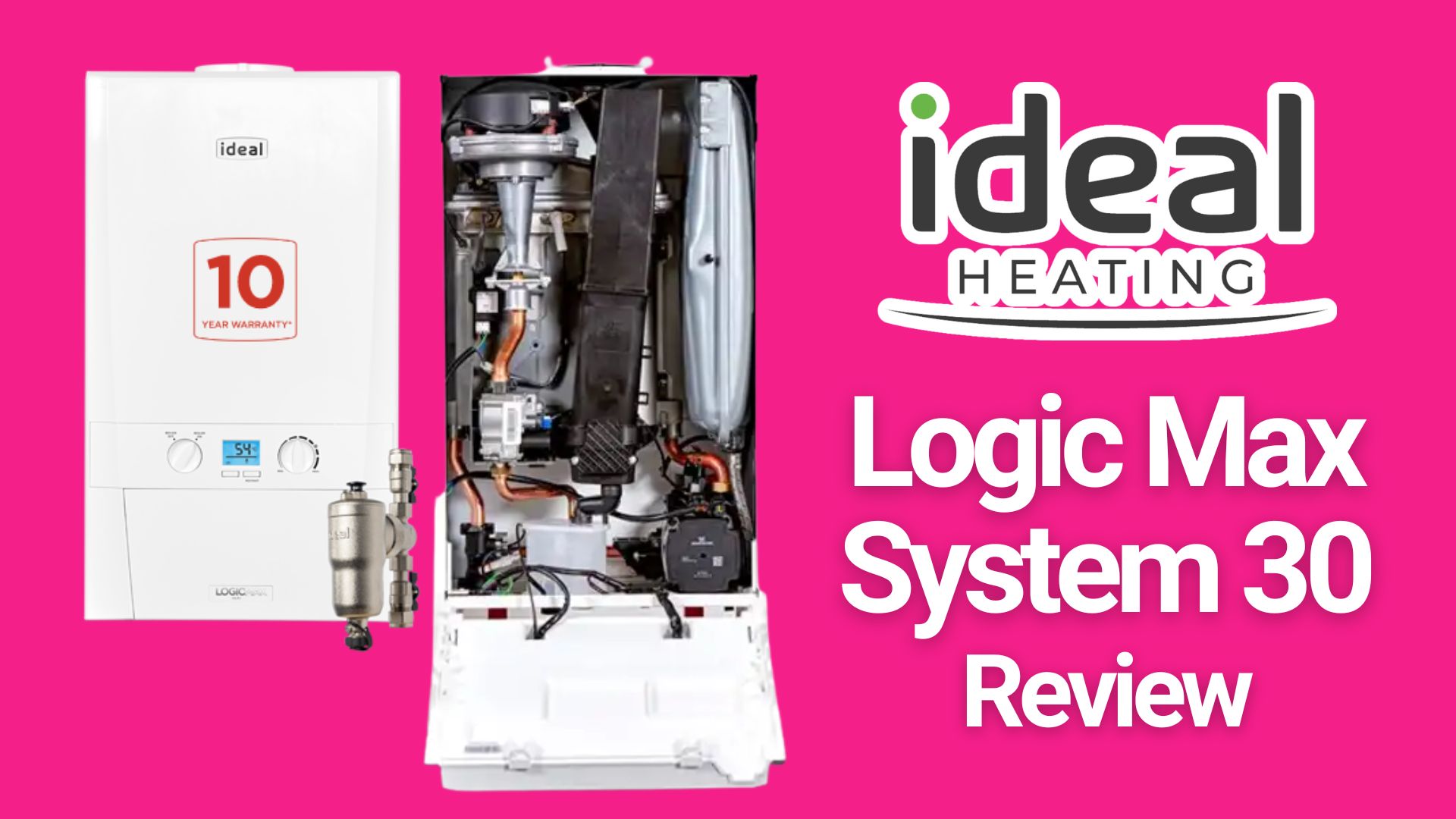 Ideal is a boiler brand steeped in British heritage, having been founded all the way back in 1906. As a company, it's known for its reliable boiler systems and competitive price points. 
One of Ideal's best selling boilers is the Logic Max System 30. This award-winning system boiler offers all the essentials that you would expect from your boiler, all whilst at an affordable price, too. So, if you need a new combi boiler – and you're on a budget – then check out this Ideal Logic Max System 30 review to see if it could work for you and your home.
Why Choose the Ideal Logic Max System 30?
With an A ERP rating, this boiler system is a great eco-conscious choice that could even help you reduce your energy bills with its efficiency sitting at a highly-impressive 93%. When it comes to how many radiators the Ideal Logic 30 system can heat, it's definitely better-suited to larger properties, with between 15-20 radiators. Check out our round-up of the key features you need to know about:
| Price | £1227.28 |
| --- | --- |
| Warranty | 10-year warranty |
| ERP Rating | A |
| Efficiency Rating | 93% |
| Output | 30kW |
| Quiet Mark Accreditation | Yes |
| Boiler Size | 700 x 395 x 278mm |
| Boiler Weight | 26.1 kg |
| LPG Compatible | Yes |
| Condensing | Yes |
| Mounting | Wall-Mounted |
The Ideal Logic 30kW system boiler is compact for a kitchen cupboard fit, meaning that it's discrete to install, but you will also need a hot water cylinder, however. As well as being scratch-resistant and hard-wearing, it comes with a large, user-friendly, digital backlit display so there's no squinting to see how your settings are configured! Here are some other factors to consider:
Boiler Frost Protection
Built-in service indicator that provides service reminders
Good for larger homes with high hot water demands
Good quality Ideal system filter that improves efficiency to help maintain low running costs
Compatible with Ideal controls
Not suitable for homes without a hot water cylinder
Requires space for a cylinder
Pre-programming required for hot water at specific times
Not compatible with solar panels
The pros really do outweigh the cons with this boiler, and it's hard to fault it. When you take into consideration the price and energy rating, it's an incredibly strong choice for those looking for both affordability and reliability.
The One Significant Downside
This system boiler will take up more space than a combi boiler as they produce hot water that needs to be stored in a separate cylinder.
The boiler itself is very compact and will neatly fit inside a kitchen cupboard but typically, you would want your system boiler and cylinder together, so this space demand is something that needs to be considered.
That being said, if this is a direct swap then the space requirements shouldn't be an issue as there will already be existing space for a cylinder.
Are Ideal Logic Boilers Reliable?
A company that has well and truly stood the test of time, Ideal is a Which? trusted brand that has built a reputation for reliable boilers that won't break the bank. 
As a company, Ideal is rated as excellent (4.8) on Trustpilot, which continues to reinforce its status as a market leader. If you need any further reassurance, however, then look no further than the 10-year warranty on offer, which provides owners with security in the unlikely event that the boiler fails.
Ideal Logic's main competitor is Worcester Bosch, who are the UK's top boiler manufacturer, but they only offer aluminium heat exchangers whereas Ideal offer stainless steel. Aluminium heat exchangers are effective and efficient, but don't offer the same level of protection against rust that stainless steel will. This means they are more likely to require replacing before a steel counterpart would. 
For a more premium boiler, Worcester is the way to go, but for a budget-friendly alternative, Ideal is highly reliable and energy-efficient, as well as coming with the added benefit of a stainless-steel exchanger. There are several other alternatives to the Ideal Logic Max S30 from Alpha and Vaillant. We've grouped together their key specs here:
| Brand | Ideal Logic Max S30 | Alpha E-Tec 30S | Vaillant ecoTEC Plus 630 |
| --- | --- | --- | --- |
| Price | £1227 | £945 | £2676 |
| Output | 30kW | 29.7kW | 30Kw |
| ERP rating | A | A | A |
| Energy Efficiency Rating | 94% | 93% | 89.40% |
| Size (H x W x D) | 700 x 395 x 278 mm | 712 x 440 x 256 mm | 720 x 440 x 372 mm |
| Weight | 26.1kg | 33.2kg | 40kg |
| Warranty | 10 years | 7 years | 5 years |
| Wall Mounted | Yes | Yes | Yes |
The Ideal Logic 30kw system boiler is the mid-range price point option of the three but has a better energy efficiency rating when compared to the other two. It's also more compact and less weighty than its counterparts and offers a longer warranty to boot. Although you may save money on the cost of the boiler with the Alpha E-Tec 30S, it is likely to cost you more in energy costs in the longer-term, when compared to the Ideal Logic model.
Frequently Asked Questions (FAQs)
How Long Does a Logic System Boiler Last?
Typically, the Ideal Logic Max System 30 should last between 10-15 years, so long as it's well maintained. Boiler technology is constantly changing and, as such, to ensure the ultimate efficiency and reliability of your system, it's sensible to upgrade your central heating around every 15 years.
Are Ideal Logic Boilers Noisy?
The Ideal Logic Max System 30 is Quiet Mark accredited, meaning that it'll run incredibly quietly at home, and that it certainly won't cause any disruption or annoyance.
Are Ideal Boilers A-Rated?
The Ideal Logic Max System 30 is an A-rated boiler for efficiency, as are most of Ideal's boilers in their extensive boiler range.
If you're looking for a system boiler replacement, then Ideal is certainly a brand you'll want to consider. The Max System 30 is easy to install, user-friendly and its high efficiency levels keep its running costs low. Whilst it requires a separate cylinder, if you use a lot of hot water or have multiple bathrooms, this will be a huge benefit to you and the boiler itself is of compact design. 
With a 10-year warranty to keep you covered, and a rust-resistant stainless steel heat exchanger, the Ideal Logic Max System 30 boiler will keep you warm for years to come!
Interested in getting an Ideal Logic Max System 30 boiler installed?
If the answer to that question is yes, then head over to our product page to book us in for an installation. Not sure whether this is the boiler for you? We've got plenty of choices so try our Boiler Choice software to pick the perfect match for your home. Or, if you have any queries, then contact our helpful Boiler Choice team on 0800 112 3433. Alternatively, send us an email to [email protected].