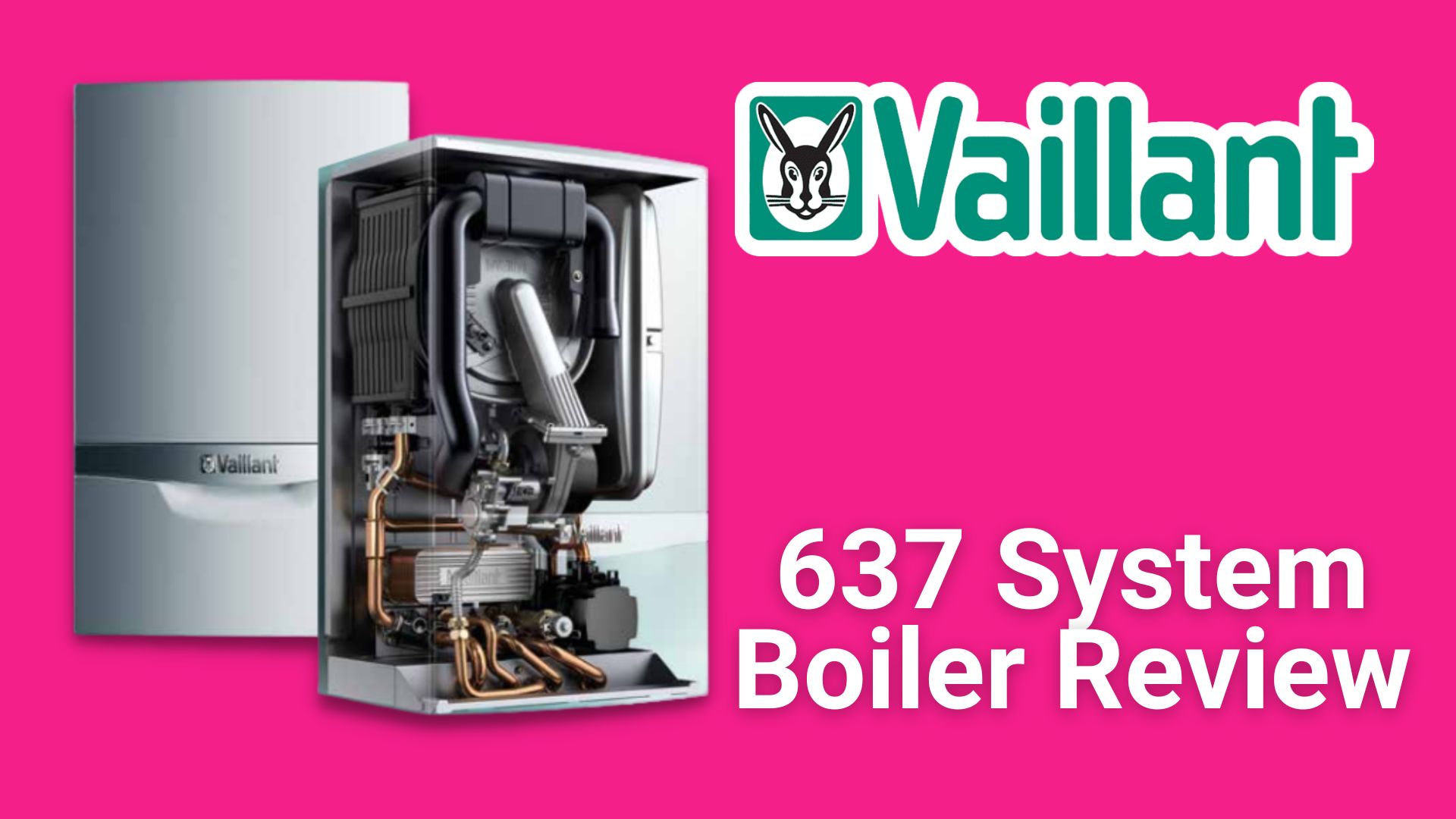 Are you in need of a new boiler? Do you want a direct replacement rather than dealing with the upheaval of switching to a combi boiler?
Boiler installations can be a hassle we'd all like to do without so, for a stress-free process, the Vaillant ecoTEC Plus 637 system could be the solution for you. This compact system gas boiler – which can be added to your existing cylinder and controls – is a great choice for homeowners looking to update from a regular boiler to a system one. 
With a high efficiency condensing system, the Vaillant 637 boiler system could even have a positive effect on your heating bills! Read on for our Vaillant boiler review and see if this is the one for you!
The largest of the Vaillant ecoTec system range, the 637 model has a central heating output of 37kw and a BTU output of 130,000 which makes it ideal for larger homes; those with 4 or more bedrooms and 1-2 bathrooms. It would also work well for properties that are stone-built with high ceilings and properties with 13-16 radiators. It has the capability to heat a large water tank with a 200-litre capacity.
At a Glance – Key Features
| Manufacturer | Vaillant |
| --- | --- |
| Boiler Type | System Boiler |
| Fuel Type | Natural Gas |
| Vaillant Boiler Size (Height x Width x Depth) | 720mm x 440mm x 406mm |
| Weight | 43kg |
| Boiler CH Output | 37KW/126000 BTU |
| Energy Efficiency | 89.40% |
| Warranty | 7 years |
| ERP rating | A |
| Suitable for use in unvented homes | Yes |
| Vaillant Boiler Price | £1,812 inc VAT |
Is the Vaillant 637 System Boiler Right for Me?
If you've got a larger home, you need a boiler to heat your water tank, and you aren't looking for a combi boiler system, there's every chance that this model is a great choice for your property. There are some factors to consider, the main one being size.
Although the ecoTEC 637 is compact for its large heating capacity, this Vaillant boiler's size means that it won't fit into a kitchen cupboard. The best place for it to be installed is within an airing cupboard, where the boiler and hot water tank can be stored together.
The ecoTEC plus 637 system boiler benefits from removable side panels, which make it even easier to access, as well as being ultra-quiet, partly due to its flame lit detection system that offers efficiency and quieter combustion. 
Here are some other factors you'll want to consider:
Pros:
Great for larger homes with 5-6 bedrooms. 
An A-rated boiler with a highly efficient, two-speed automatic pump to reduce energy. consumption and lower stand-by losses, which can reduce energy bills.
Dedicated engineers for boiler repair call outs.
Stainless steel heat exchanger.
Contemporary design to fit in stylishly with modern home décors.
Built-in pump and expansion vessel.
Suitable for use with unvented systems.
Cons:
Not suitable for smaller homes (2-3 bedrooms) as it would cost more than necessary. 
Won't fit in kitchen cupboards.
No longer comes with a 10-year warranty like other competitors offer. It comes with 7 years as standard, but to extend it further than that, will be at an additional cost. You can find out more about the boiler warranty process here.
For those looking for a direct boiler switch, the process is an easy one as it can be added to your existing cylinder and controls. The Vaillant System Boiler 637 benefits from a built-in computer wizard that guides the user through gas pressure and output setups. It will also allow you to check the range rate for the heating and hot water circuits, too. 
In terms of output, your installation engineer will be able to measure your home to check the required output and set it just right for your needs.
As part of this review of a Vaillant boiler, you'll probably want to know how it stacks up against boilers from one of their main competitors, Worcester. When looking for the best system boiler, Vaillant and Worcester tend to be two of the most popular brands to choose from, as they're both known for their reliability. Worcester and Vaillant boiler reviews, from both customers and tradesmen, are overwhelmingly positive. 
Both brands' boiler systems benefit from an ERP rating of A, making them highly energy-efficient choices. Worcester and Vaillant also have their own dedicated engineers meaning your boiler is in safe hands whichever brand you opt for.
Vaillant's ecoTEC range is one of the most popular on the market, with great energy efficiency and high flow rates, but they are slightly more expensive than Worcester, which also benefits from being the UK's top boiler manufacturer, so this can be a deterrent for choosing Vaillant. 
Vaillant's range of boiler systems isn't as wide ranging as Worcester's, however, there is still something for all households within their selection, and they remain a reliable, reputable choice of boiler brand. And these days, the quality from these two boiler brands is so high that we're really only talking about the slightest differences between the two.
Frequently Asked Questions (FAQs)
What is the Most Powerful Vaillant Boiler?
The most powerful Vaillant boiler in the ecoTEC system boiler range is the 637 model with a central heating output of 37KW and a BTU output of 130,000.
Are Vaillant Boilers Expensive?
Vaillant is a premium boiler brand and, as such, is on the pricier end of the spectrum. However, this higher price means that they come with excellent energy efficiency and a long warranty to boot.
Are Vaillant Boilers Noisy?
No, Vaillant boilers are not noisy. In fact, the Vaillant ecoTEC Plus 637 has a flame-lit detection system that enables quitter combustion and is Quiet Mark approved owing to its ultra-quiet operation status. Whilst Vaillant ecoTEC 637 boiler problems are uncommon, if you find that your system has become noisy, it could signify a fault.
So, there you have it. The Vaillant 637 System Boiler is an incredibly competent piece of machinery, offering both high energy efficiency and excellent performance, and is ideal for larger homes. The fact that it can be 'bolted on' to existing boilers is just another feather in its cap. If you'd like to find out more about our other boiler reviews and guides, click here.