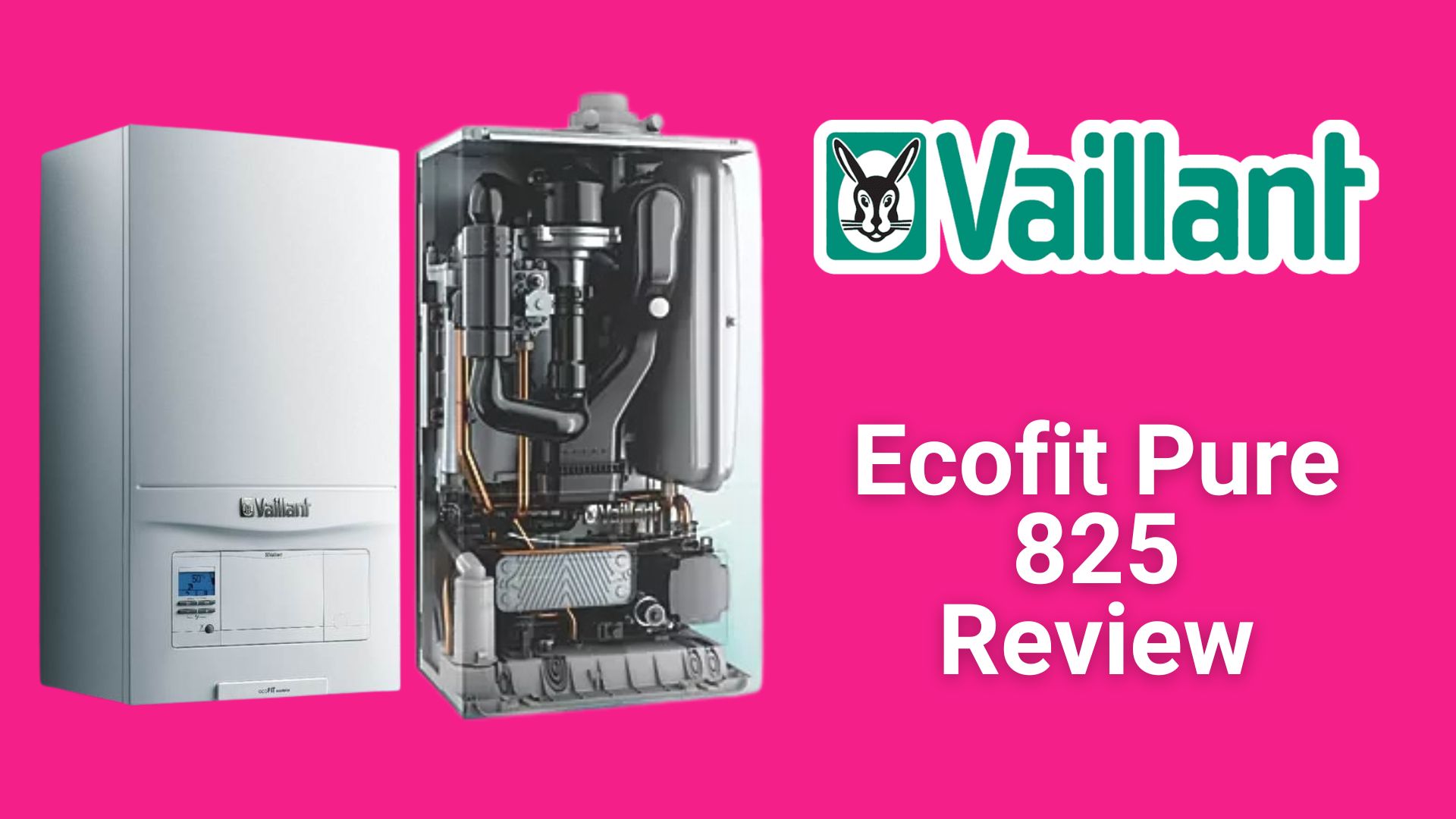 With its manufacture of top-quality boilers, Vaillant is renowned for being an industry leader in the heating systems world. The EcoFIT Pure line is a particularly popular range from the brand that offers an efficient, yet still powerful performance. 
If you're on the lookout for a compact combi-boiler that would suit a small house or flat, then the Vaillant EcoFIT Pure 825 might be just what you need. Keep reading for our comprehensive guide on this small but mighty heating system.
Designed with ease in mind, the compact Vaillant EcoFIT Pure 825 combi-boiler will fit into most cupboards and is Quiet Mark accredited so you won't be disturbed by its work. It's an ideal model for smaller homes and flats that have up to ten radiators.
Additionally, because it is a combi-boiler there is no need to find additional space for water tanks or cylinders, making it perfect for those short on space. 
This highly-efficient Vaillant EcoFIT Pure is a 25kw model that has money-saving on the brain as, not only does it have an energy rating of 89.4%, but it's also fitted with an aluminium heat exchanger.
Using aluminium (rather than stainless steel) is a more cost-effective way of running a boiler, owing to the fact that it's a better conductor of heat, less prone to blockages and eliminates the prospect of rust. 
It has a sleek design with a modern, contoured casing which is pleasing to the eye, as well as featuring an easy-to-read LED display panel which is backlit for added visibility.
Key Features: A Quick Rundown
| Manufacturer | Vaillant |
| --- | --- |
| Vaillant EcoFIT Pure Boiler Type | Combi-Boiler |
| Fuel Type | Gas |
| Output | 25kw |
| Vaillant EcoFIT Pure Dimensions (Height x Width x Depth) | 700 x 390 x 295mm |
| Lift Weight | 32KG |
| Energy Efficiency | 94% |
| Warranty | 7 years |
| ERP rating | A |
| Heating Output | 19.6kW |
| Hot Water Output | 25.4kW |
| Vaillant EcoFIT Pure 825 Price | £1253 inc VAT |
Is the Vaillant 825 EcoFIT Pure Right for Me?
There can be no doubt that Vaillant is a reliable brand, steeped in a rich history that cements its status as an industry leader. If you have a small property and mainly use a shower, this EcoFIT pure 825 could be a great fit for you.
However, if you like a long hot soak in a tub at night, then you'll need to be prepared for a bit of a wait. Whilst it can fill a bath, it will struggle to fulfil this (and other high hot water demands) in a rush. 
If you like the Vaillant brand, then you could look into the Vaillant 835 which is 35kW, and far more powerful, but still from the EcoFIT Pure range.
This Vaillant EcoFIT boiler also comes with an impressive 7-year guarantee, but it will need to be fitted by an accredited installation team and serviced annually by a Gas Registered engineer to ensure its validity.
EcoFIT Pure 825: Pros and Cons
Now that you've got an idea of what this Vaillant EcoFIT Pure combi-boiler is capable of, check out our handy list of pros and cons to learn more:
| Pros | Cons |
| --- | --- |
| ✅ Top and rear flue options | ❌ Only suitable for smaller homes with 1-2 bedrooms and one bathroom |
| ✅ Aluminium heat exchanger | ❌ Slow to fill a bathtub |
| ✅ Easy installation | ❌Only comes with 2-year guarantee (unless installed by a Vaillant Advance installer) |
| ✅ User-friendly | |
| ✅ The hot water output of 25.4kw can deliver 10.5 litres of hot water per minute to taps | |
| ✅ Stylish, contoured casing | |
| ✅ Will fit in most kitchen cupboards | |
| ✅ Doesn't require a water tank | |
| ✅ A 7-year guarantee with no hidden charges | |
| ✅ Compatible with solar panels | |
How Does it Compare to Other Similar Boilers?
Vaillant is one of the biggest names in the heating sector alongside Worcester Bosch, so the chances are, if you need a new boiler, then you'll have come across the two brands before. 
Worcester Bosch also has a 25kW combi-boiler in their renowned Greenstar range. The Worcester Bosch Greenstar 25i and the Vaillant EcoFIT Pure 825 are both wall-mounted with a high energy efficiency and are suitable for small houses or flats with one bathroom and up to 10 radiators. 
Although the differences between the two are minimal, Worcester's warranty is slightly longer than the Vaillant one, at 10 years, however the EcoFIT Pure 825 is slightly quieter.
Another alternative you may want to consider is the Ideal Logic Plus C30 boiler. From another trusted brand, this is a more affordable option compared to Vaillant and Worcester Bosch and even comes with built-in freeze protection for colder days!
So, if your budget doesn't stretch to Vaillant or Worcester Bosch, then this is a great mid-range heating system to choose.
Our rating: 80%
So, that concludes our Vaillant EcoFIT pure 825 review; we hope that has helped you make a more informed decision! For a reliable and compact combi-boiler, the Vaillant 825 could be for you, but one major downside is its struggles to fill a bath.
We wouldn't recommend this for homes with a deep bath, or more than one shower, however, for smaller homes that mainly use a single shower, then this is definitely a great choice. Quiet, stylishly designed, and easily tucked away in a kitchen cupboard – what's not to like?
If you'd like to find out more about our other boiler reviews and guides, click here.