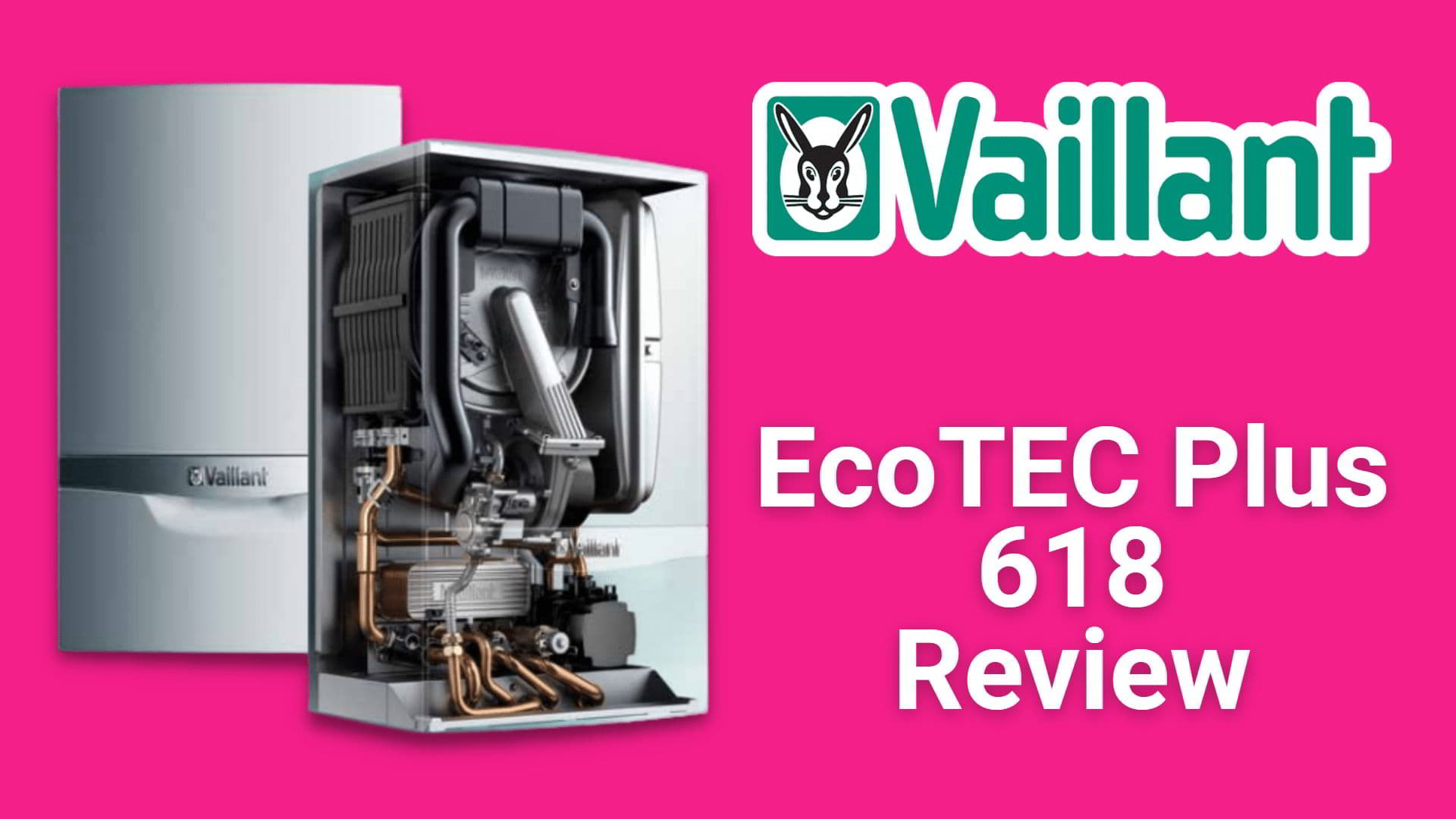 Continuing with our series of reviews examining the Vaillant ecoTEC Plus range of heating systems, in this episode, we welcome the Vaillant Ecotec Plus 618 as the star of today's show.
This model, the Vaillant 18kw system boiler, is quiet-mark accredited, sits mid-range in terms of output within the ecoTEC Plus range, boasts a 94% efficiency rating and comes with a warranty ranging from 5-10 years.
In this review, we will cover every important aspect, element, factor and consideration that could come into play when deciding whether the Vaillant 618 should be in the running for your next heating system.
Vaillant ecoTEC Plus 618 - Key Features
Fit for today's climate (both seasonal and financial) energy efficiency is the prime driver behind the conception of the ecoTEC range of system boilers. To that end, the ecoTEC Plus 618 sports an advanced flame lift detection system which improves not only energy conservation but also noise reduction as well.
Efficiency
As alluded to above the Vaillant 618 has a 94% efficiency rating and is also accredited with an ERP Heat rating of A. In common language, this means it is both highly economical and really good at heating spaces… which is always nice to hear when discussing heating systems.
System & fuel
Vaillant's ecoTEC Plus 618 is a system boiler, meaning it runs on the mains water supply rather than requiring a separate water tank. It is gas-fuelled but there are also options available for LPG-fuelled homes that are not connected to the national gas supply. 
Installation and design
In terms of installation and design, the Vaillant 618 is a lightweight (lowest in its class), wall-mounted system. It comes in white with a sleek, contoured design and with dimensions of 720 mm x 440 mm x 338 mm (Height, Width, Depth) you'll have no problem finding space to install it, and you won't give yourself a hernia lifting it when you do.
Smart controls 
Another great feature of the Vaillant 618, and indeed all ecoTEC Plus boilers, is that they can provide a total heating solution for your home with all the latest available intelligent controls and accessories. 
You can have complete control of your heating system with all the latest tech, apps etc straight from one manufacturer – which means not stressing about the compatibility of devices and other solutions and not having to deal with any middlemen. 
Efficiency applies to more than just saving electricity and Valient appears to have recognised this with the ecoTEC Plus range.
Vaillant ecoTEC Plus 618 - Full Features Table
| BRAND | Vaillant |
| --- | --- |
| Model | ecoTEC Plus System 618 |
| Boiler Type | System |
| Fuel Type | Gas |
| Gas Council Number | 41-694-22 |
| Standard Warranty | 5 years |
| Optional Warranty | 7-10 years |
| Central Heating Output | 19kW |
| Wall-Mounted or Floor-Standing | Wall-Mounted |
| Efficiency Rating | 94% |
| ERP rating | A Heat |
| Band | A rated |
| Condensing or Non-Condensing | Condensing |
| Dimensions | 720 mm x 440 mm x 338 mm |
| LPG Compatibility | LPG Compatible |
| Solar Compatibility | Solar Compatible |
| Noise Level | 48 decibels |
| Price | £1,074.65 (Ex VAT) |
Vaillant ecoTEC Plus 618 - Additional Features & Benefits
Removable Side Panels
To improve ease of access during times of installation or maintenance, simple things like this can end up being absolute life-savers (or perhaps sanity-savers?).
Advanced Modulation
The Vaillant 618 will automatically modulate the air and gas during times of low demand maintaining a 1:6 ratio to ensure optimal efficiency.
Installation Wizard
The Vaillant ecoTEC Plus 618 comes with a complete step-by-step text guide to ensure successful first-time installation and troubleshooting – although the installation should be left to a professional gas engineer, so this might not be so relevant for most individuals.
Vaillant ecoTEC Plus 618 - Heating Information Table
| Nominal heat output range at 50/30˚C (Condensing mode) | 4.1 – 19.3 kW |
| --- | --- |
| Nominal heat output range at 80/60˚C (Non-Condensing mode) | 3.8 – 18.5 kW |
| Flow temperature range | 30 – 85 C |
| Maximum flow temperature | 85 C |
| Flow temperature factory setting | 75 C |
| Approximate condensate volume at 50/30˚C | 1.9 litres/hour |
| Modulation (max/min) | 1:4.9 |
Top 3 Vaillant ecoTEC Plus 618 FAQs
1. What type of boiler is a Vaillant ecoTEC Plus 618?
The Vaillant ecoTEC 618 is a condensing, natural gas, system boiler.
2. Is the Vaillant ecoTEC 618 Plus a combi boiler?
No, the Vaillant ecoTEC 618 is not a combi boiler. As per the previous question, the ecoTEC 618 is a system boiler that does not require a separate cold-water storage tank.
3. How do you reset a Vaillant ecoTEC Plus 618?
You will find the reset button on the display indicated by a flame with a line running through it. Simply depress the button for approximately three seconds and this will initiate a system reset.
Final Thoughts - Vaillant ecoTEC Plus 618
As far as compact system boilers go the Vaillant 618 provides proper value for money at a reasonable price. We would recommend this model for installation in properties with up to three bedrooms and no more than a single bathroom. For smaller homes, such as one-bedroom flats or studios, or larger homes with multiple bathrooms and 4+ bedrooms, you might want to look at other models in the Vaillant boiler range.