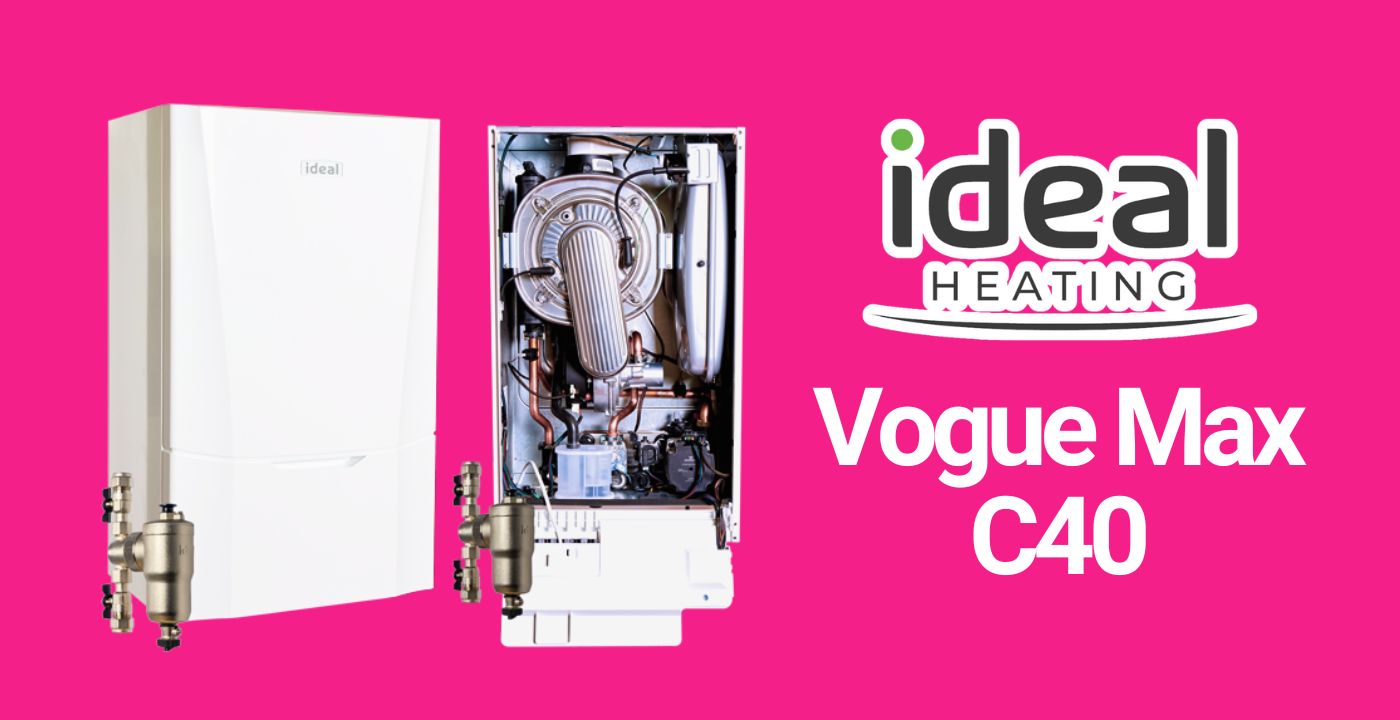 Ideal Boilers is a well-established British manufacturer of boilers and heating systems. The company has a long history, having been founded in 1906, and produces a number of different boiler ranges including the Logic, Vogue, and Mexico lines. In this article we'll be testing and evaluating the most powerful model in the Vogue range, the Ideal Vogue Max C40.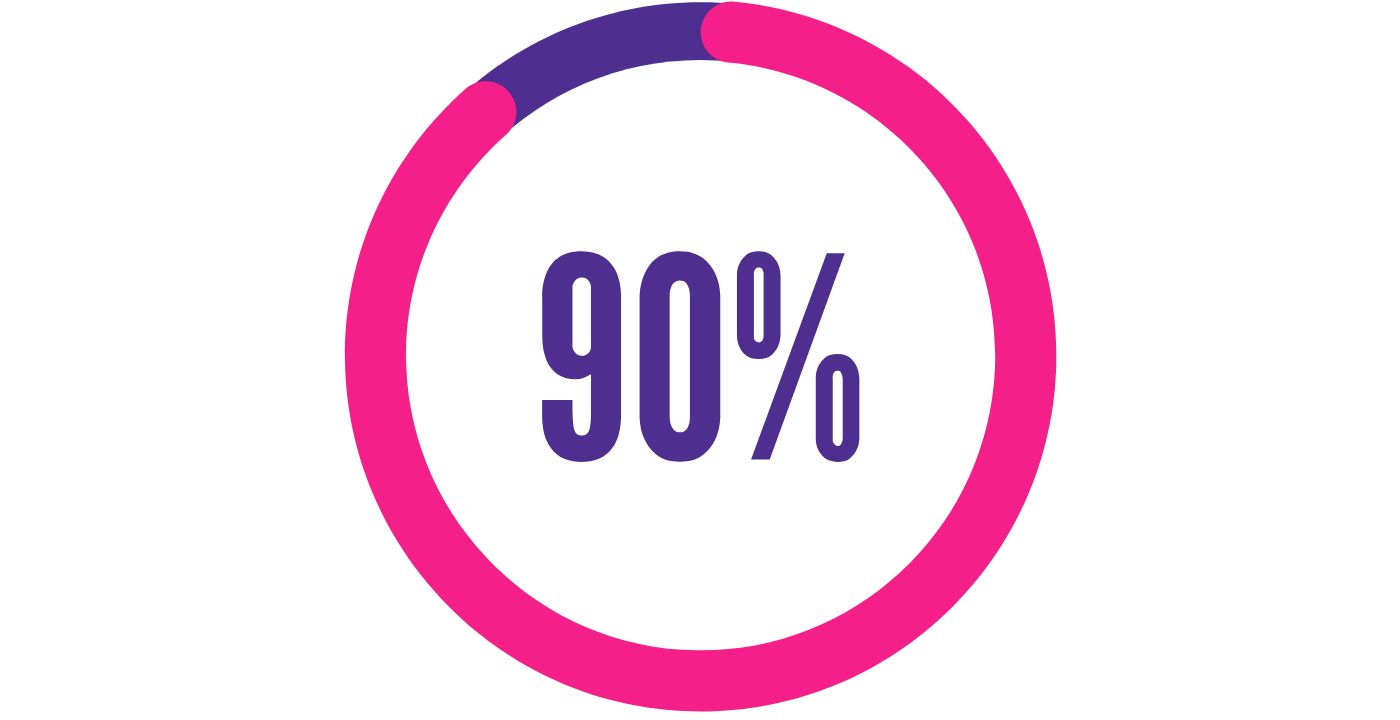 The Vogue Max C40 is a great boiler at an excellent price. It has a significantly higher central heating output, hot water output and hot water flow rate than the other models in this range, yet it only costs a fraction more of the price of its smaller siblings.   
With the Vogue Max C40 you can provide a home with 2 bathrooms and up to 15 radiators with heat and hot water with excellent pressure for showers. And you can do this at a price little more than you would have to pay for an equivalent boiler in a flat with just one bathroom and only 5 radiators. 
Price: £1,498.80 (Excl. VAT)
Rating: 9/10
Ideal Vogue Max 40kW Review
Now we're going to take a deeper dive into the Ideal Vogue Max C40 and really unpack what you want to know.
Are Ideal Vogue Boilers Any Good?
In short, yes. Ideal as a boiler manufacturing company that has won numerous awards over the years for setting industry leading standards with their boilers. The manufacturer has earned recognition from both their industry peers and colleagues, and also from their customers. 
For instance, as a company Ideal has this year once again won the Good Housekeeping Reader Recommended award for 2023 (a multiple repeat performance), whilst the Vogue range has also been recognised by the Federation of Master Builders. If you'd like to know more about Ideal boilers and what customers think of them, please read our blog covering all the important aspects of Ideal Boilers.
Why Choose the Vogue Max C40?
The Ideal Vogue Max C40 is a powerful yet affordable combi boiler that's designed to cater to a variety of different home sizes.
Key Features and Performance
Equipped with an impressive 40kW heat output, the Vogue Max C40 makes it a perfect choice for larger homes, especially those with multiple bathrooms or en suite facilities. It has an efficiency rating of 93%, which is impressive for any standard boiler but is particularly remarkable for a 40 kW boiler.
ℹ It also boasts an ErP rating of A for both heat and hot water, making it an eco-friendly choice for your home. Even as a larger, A-rated boiler, the Vogue C40 will help save you significant energy and reduce your energy bills.
It can easily handle the heaviest levels of us from two bathrooms simultaneously, while adequately heating a larger semi-detached or detached home (up to seven bedrooms).
| Make | Ideal |
| --- | --- |
| Model | Vogue MAX C40 |
| Boiler Type | Combi |
| Fuel Type | Gas |
| Standard Warranty | 10 Years |
| Warranty with Accredited Installation | 12 Years |
| Central Heating Output | 34kW |
| Hot Water Output | 40kW |
| Hot water Flow Rate | 16.4 l/min |
| Condensing (Y/N) | Condensing |
| Efficiency Rating | 93.00% |
| Band Rating | A Rated |
| ERP Rating | A Heat |
| LPG Compatible | Yes |
| Solar Compatible | No |
Design & Additional Features
A notable feature of the Vogue Max C40 is its compact design, making it an excellent option for those with limited space. As it's a combi boiler it doesn't require an external water tank to operate, further maximising space efficiency. 
The Vogue Max C40 comes with a built-in frost protection feature and is compatible with wireless communication for smart technology integration. So, If you prefer, you can control the boiler and your entire home heating operations through a mobile app on your phone or other devices. 
The boiler also comes with a user-friendly interface, featuring a 3.5in full-colour large backlit LCD display with plain text and graphics.
How Reliable is the Ideal Vogue Max C40?
When it comes to reliability it's really a hard thing to quantify, because almost any data or evidence one can find is almost always anecdotal. 
However, that doesn't mean these data points should be dismissed out of hand. After all, user reviews and honest, and disinterested feedback is one of the key drivers to customers making a purchase these days. 
We spent a decent chunk of time analysing YouTube reviews, and the comments that accompanied them, below is a representative selection of them:



Another source of both professional and customer reviews comes from the Federation of Master Builders.
Professional Feedback
"The Ideal Vogue Combi boiler is the highest quality offering in their range and they boast that this boiler is made from only the best quality reliable British parts. Ideal has now won several awards for efficiency and reliability and they deserve the reputation they have gained."
"On the whole, I would score the Ideal Vogue 9.5 out of ten. And the only reason it's not a 10 is that they haven't released a Smart Control for it yet…"
Customer Feedback
"We have had an Ideal Vogue 40 installed about eight years back, before that had another brand which was constantly giving us problems within four years of its purchase. Ideal came with 10 years of warranty, the boiler is super efficient, and with yearly service no problems ever, and the service of the company is professional and they look after their customers. I will recommend Ideal to anyone without any hesitation at all!"
By every available measure Ideal Vogue Max boilers, including the C40, are extremely reliable. 
Based on the reviews detailed above and other sources we would afford it a 95%-100% reliability rating.
One very good indicator as to a product's likely reliability is the length of the warranty that it comes with. As you may have noted in the YouTube comments posted above, all Ideal Vogue Boilers come with a standard 10-year warranty, which is upped to 12 years if the boiler is installed by an Ideal-accredited engineer. 
In our experience, the average length of a warranty on a standard combi boiler is 3-5 years with the option of an additional two years (another common practice with boilers). Having a 10-year standard warranty is a very strong indicator that this Idea Vogue combi boiler is built to last.
In summary, the Ideal Vogue Max combi 40 is a high-quality boiler unit that offers impressive performance for medium-sized to larger homes. 
Its combination of reliability, high efficiency, and convenience features makes it a solid choice for any household and the performance it delivers for the price is extremely good value by any objective measure. 
If you think that an Ideal Vogue Combi Boiler might be the right next boiler for you, but you are worried about it being a bit too much, please check out the smaller sibling models, the Ideal Vogue Max C26, and the Ideal Vogue Max C32 on our website. 
One of them is bound to be the perfect fit for your home.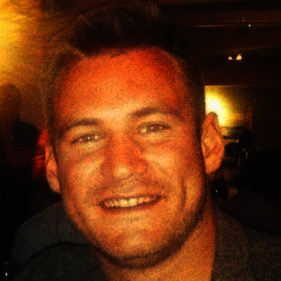 Boiler Choice Director & Founder
This blog was written in collaboration with Eddie Scoffin, the founder of Boiler Choice. Eddie has been installing boilers for over a decade. With a passion for excellence and customer satisfaction, Eddie's leadership and expertise have been instrumental in the success of Boiler Choice. His commitment to making the boiler installation process hassle-free for customers has earned him a respected reputation in the industry.
Updated on August 2, 2023