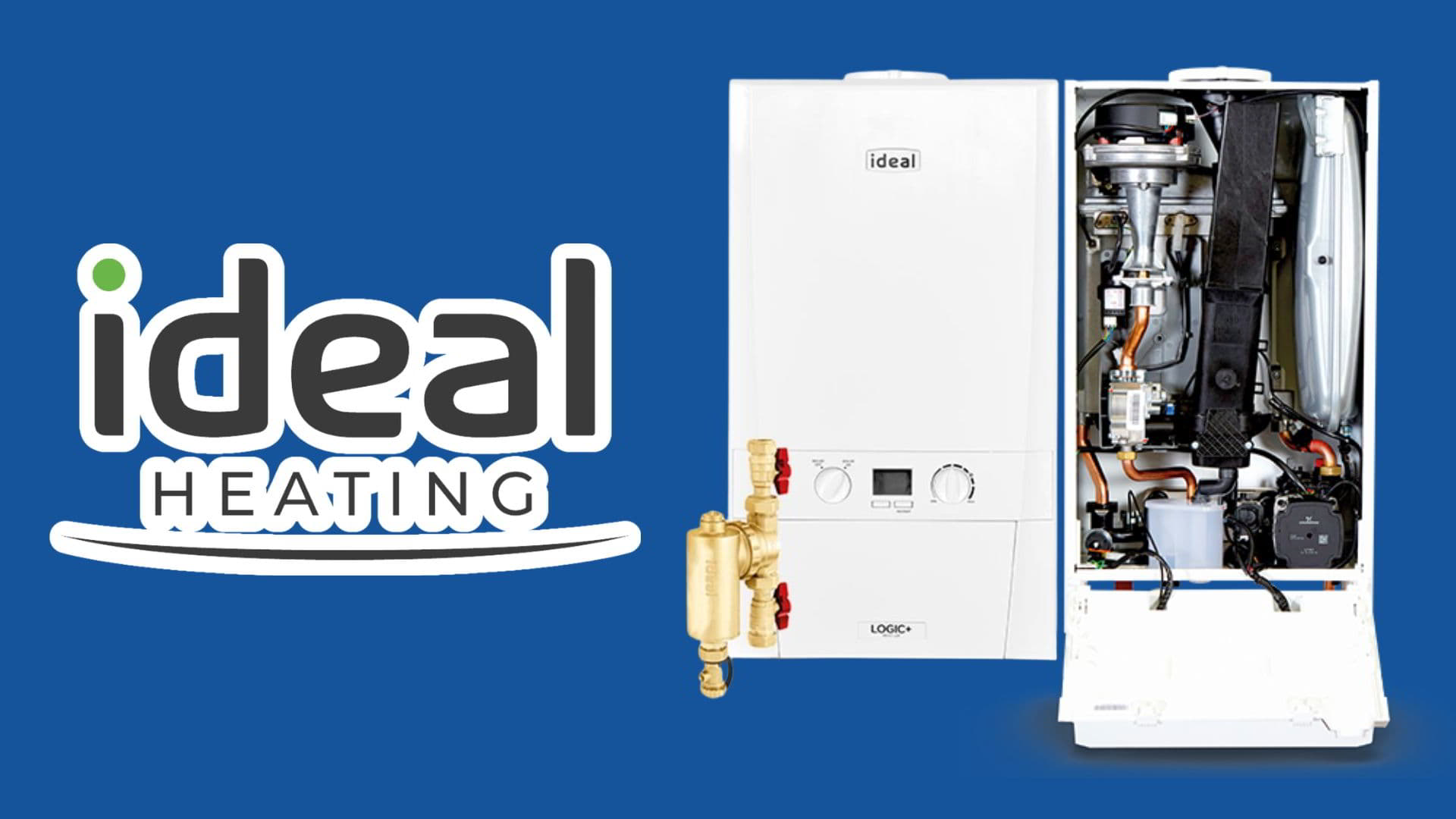 It will come as no surprise for you to hear that we have conducted a number of Ideal boiler reviews in our time. Recently, however, it came to our attention that, whilst we've reviewed many Ideal boilers individually, we have never provided you with our overall thoughts on the company as a whole. 
We are aware that customers are invested in brands for various reasons. After all, there is much more to a company or brand than just its products. So, we decided the time had come for us to give you our complete take on Ideal Heating and how the manufacturer stacks up against other common UK boiler brands.
Short on Time? Key Takeaways
Ideal Boilers have an extremely high customer rating from a broad sample size (28,500+ reviews).
Many models cost less than the average price of equivalent models from other manufacturers.
Ideal Boilers come with a longer than average standard warranty.
Many Ideal boilers match or outperform more expensive alternatives from other boiler manufacturers.
Read Our Ideal Boiler Reviews
Ideal Boilers History and Reputation
The company behind Ideal boilers, Ideal Heating, was founded all the way back in 1906. In 1920, they brought the Ideal Cookanheat to market, which was a key driver in establishing central heating systems as standard in low-income and poorer homes across Britain.
Ever since that time, Ideal has been at the forefront of innovation in the heating systems industry. 
Today, the manufacturer has a well-earned reputation for producing boilers that can go toe-to-toe with any comparative model from other manufacturers, and often at a lower price. 
Ideal Heating has also achieved a number of recognitions and awards, including being a Which? Trusted Trader for 'Out of Warranty Repair and Servicing', and winning Good Housekeeping's user recommendations recognition in 2013, 2017, and again this year, in 2023.
If you want to know whether a company or its products are any good, who do you ask? You ask their customers. These days, there are countless sources to gauge customer sentiment and satisfaction. In the UK perhaps the strongest aggregator of customer feedback is Trustpilot. 
So, how does Ideal Heating rate on Trustpilot?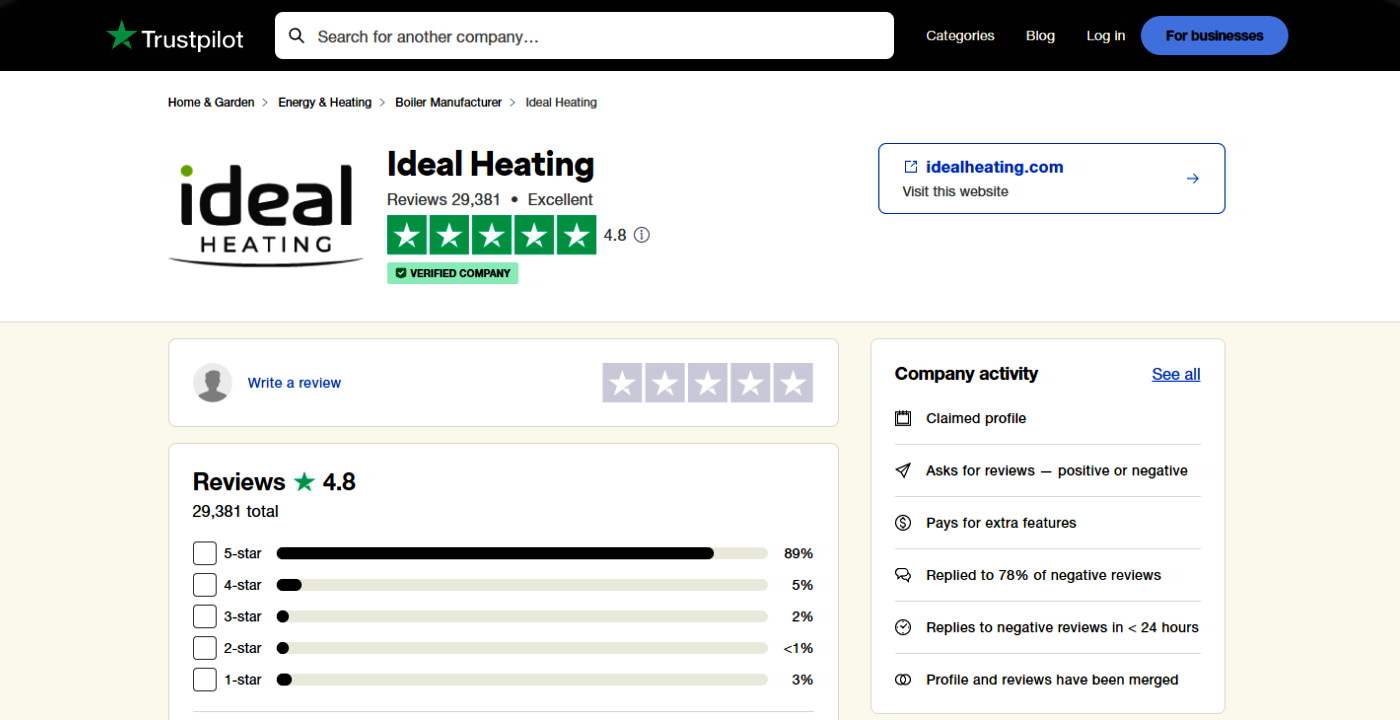 As you can see Ideal Heating scores the top rating of "Excellent". They score 4.8 out of a maximum 5 stars for customer satisfaction. This aggregate score comes from nearly 30,000 customer reviews, with 9/10 reviews giving them the full 5 stars.

For any negative reviews the company does get, 79% of those are responded to in under 24 hours.
When it comes to pricing, Ideal boilers are positioned very much at the mid/lower-midrange of the boiler pricing spectrum. Below, we can see the price difference between equivalent combi boiler models from Glow Worm (economy boilers) and Vaillant (premium boilers).
You will see that the Ideal boiler is closer in price to the budget boiler than it is the premium brand. As far as pricing goes, Ideal boilers are amongst the most affordable. But what does that cost you in terms of performance? Or, put another way…
Are Ideal Boilers Any Good?
In order to pursue this question, let's continue to examine Ideal in comparison with equivalent alternatives when assessing their performance and efficiency.
| Make | Glow Worm |
| --- | --- |
| Model | Glow Worm 35C |
| Standard Warranty | 7 years |
| Central Heating Output | 6kW |
| Hot water Flow Rate | 14.1 l/min |
| Efficiency Rating | 89.20% |
| Make | Ideal |
| --- | --- |
| Model | Logic MAX 35 |
| Standard Warranty | 10 years |
| Central Heating Output | 7kW |
| Hot water Flow Rate | 14.5 l/min |
| Efficiency Rating | 94.00% |
When compared to the Glow Worm 35C, the Ideal Logic Max 35 has: 
A longer standard warranty (10 vs 7 years) 
A greater central heating output (14.29% more efficient)
A better hot water flow rate 
A significantly higher efficiency rating (94% vs 89.2%)
And you get all of this for just an additional £80 when compared to the Glow Worm 35C.
Now, let's see how it compares to the Vaillant Premium model.
| Make | Ideal |
| --- | --- |
| Model | Logic MAX 35 |
| Standard Warranty | 10 years |
| Central Heating Output | 7kW |
| Hot water Flow Rate | 14.5 l/min |
| Efficiency Rating | 94.00% |
| Make | Vaillant |
| --- | --- |
| Model | Eco Tec Plus 835 |
| Standard Warranty | 10 years |
| Central Heating Output | 7kW |
| Hot water Flow Rate | 14.3 l/min |
| Efficiency Rating | 94.00% |
Remarkably, both the Ideal Logic Max 35 and the Vaillant Eco Tec Plus 835 score identically on warranty, central heating output and efficiency ratings. The only difference is in the hot water flow rate, where the Ideal outperforms the Vaillant (14.5 l/min vs 14.3 l/min).
The Ideal matches the Vaillant by every measure and even beats it in one important area. And it does this whilst coming in more than £300 cheaper than the Vaillant.
Ideal Pricing Vs Other Boiler Brands
The pricing of Ideal boilers is very competitive when compared with other boiler brands. An Ideal boiler will typically set you back between £850 and £1,500, which compares very favourably to both budget-brand alternatives (Glow Worm, £800 – £1,000), and premium brands (Vaillant, £900 – £1,650), alike.
Frequently Asked Questions (FAQs)
How Long do Ideal Boilers Last?
How long any boiler lasts depends just as much on how well it's maintained throughout its life, as it does on who made it. A good indicator of a boiler's anticipated lifespan can be taken from the length of its warranty. In the case of Ideal boilers, most of their boilers come with a 7-10 standard warranty, many of which afford the option for a 12-year warranty.
This is higher than the length of the average industry warranty for traditional heating systems. As such, if you keep your Ideal Boiler well maintained, and regularly serviced, there's no reason not to expect it to last at least 10, 15, or even 20 years.
When compared to other manufacturers, Ideal's boilers are amongst the quietest available. All Ideal boilers are Quiet Mark-accredited, but some are especially quiet. 
Of the three types of boiler systems, Ideal has the third-quietest combi boiler currently on sale in today's market (Ideal Logic Max C35), the second-quietest system boiler (Ideal Logic Max), and the quietest conventional boiler (Ideal Logic Max Heat).
ℹ
Quiet Mark accreditation is an internationally-recognised certificate awarded by the Noise Abatement Society (NAS).
Ideal boilers are able to meet and surpass the standards of more expensive boilers and yet cost roughly the same as what many would consider budget alternatives (which they outperform for basically the same cost).
Additionally, having a longer standard warranty (and greater additional warranty options) than most other manufacturers is a strong sign of the reliability and longevity of their heating systems. Companies don't give out long warranties unless they are sure their products are going to last a long time.
We hope that you have found this article of use and will be happy to help If you are looking for more info on Ideal's range of boilers.