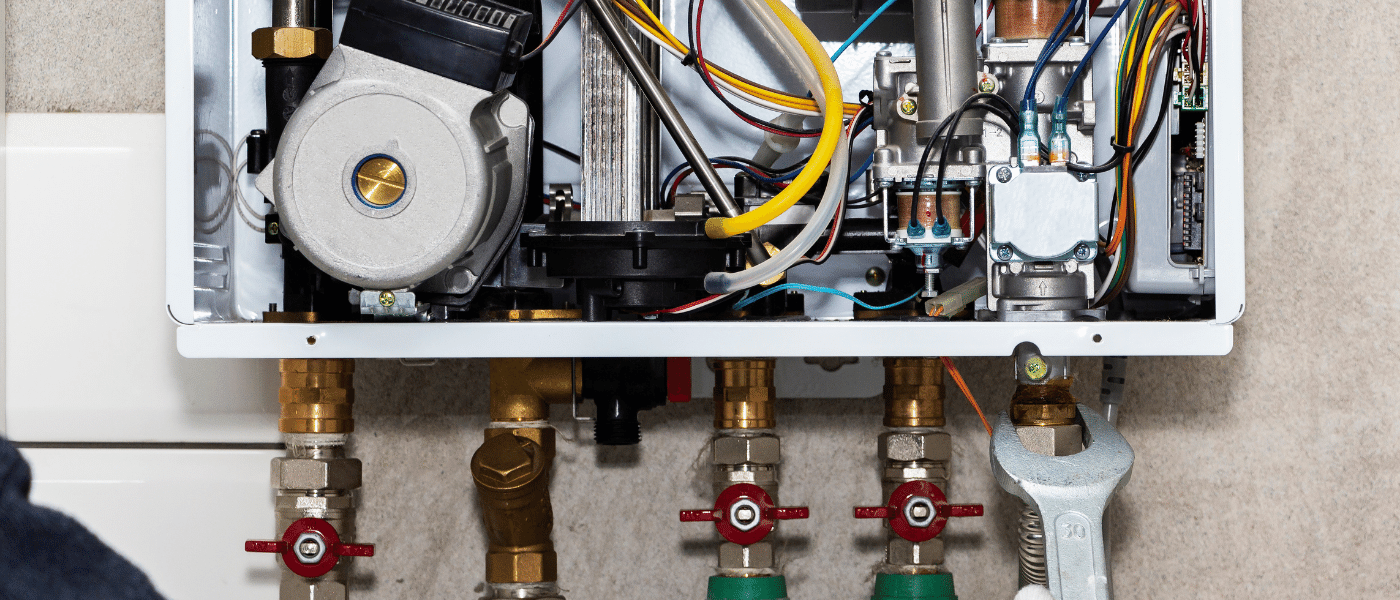 There is no doubt that needing a new boiler is one of life's disruptions we could all do without but if you are unfortunate enough to need a new one, you may be wondering how long the installation process takes. The good news is that, in most instances, a boiler is typically installed within 1-3 days; however this is dependent on how much work is required and the type of boiler needed.
How long does it take to fit a boiler?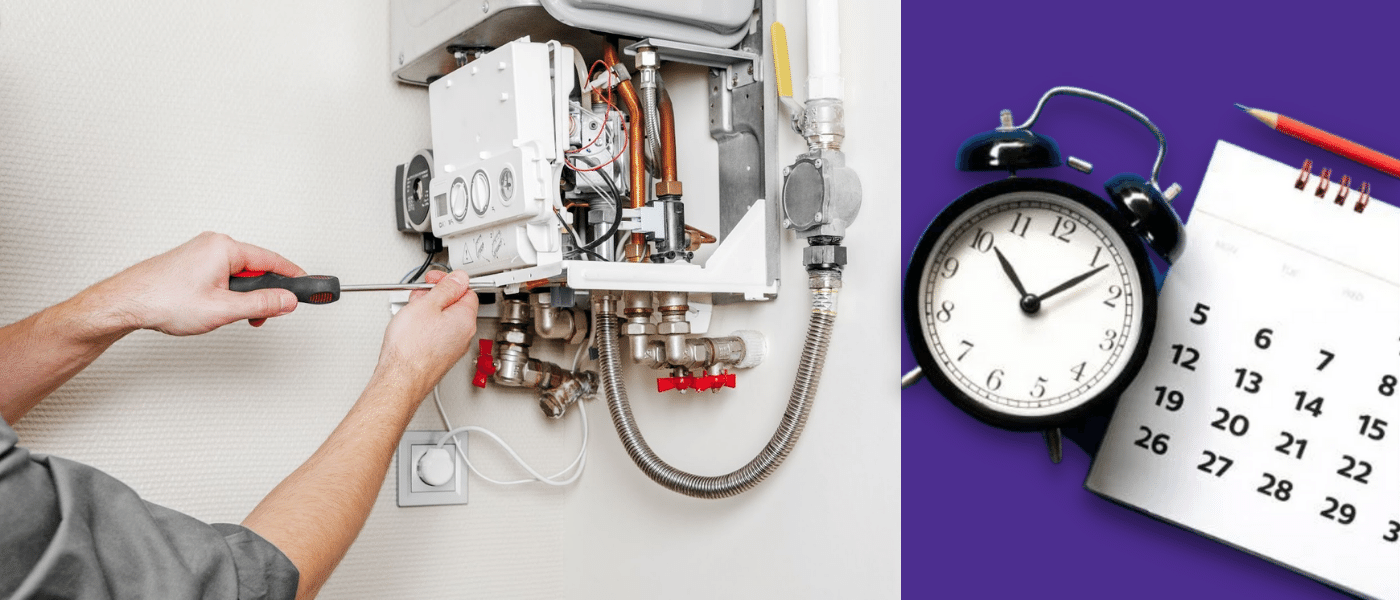 A simple boiler replacement, like for like, should only take a day to replace, however if you are looking to relocate the boiler to another room or change any pipes then the timings will increase. Usually work is completed within 3 days, but on occasion, it can take as long as 5 days to completely finish an installation.
Scenarios which can affect installation time include:
–          No pre-existing boiler in the property
–          The fuel type used
–          If the boiler is being moved to a different location
–          The type of boiler being fitted
–          Changing the boiler type and what is being changed from and to
–          Complex issues such as the type of home or existing water supply
It is to be expected that during the boiler replacement process there will be some disruption to home life, for example, to hot water and central heating supplies so it is advisable to be prepared for this when arranging an installation.
Like-for-like boiler swap: 4-6 hours
This is by far the easiest installation for boilers but also, the quickest. If your old boiler has broken and this is a simple replacement of the same type (ie. combi for combi), in the same place with water, gas pipes and central heating already set up in the correct place then this can easily be installed in less than a day by an engineer.
The process itself is a simple one involving the isolating and draining of the systems, disconnecting the electric supply and thermostat, removing the old boiler, and replacing it with the new one.    
It is important to note that straight swaps aren't always a feasible option particularly if your boiler has come to the end of its life as this may mean other parts need changing too. Boilers, cylinders, and tanks all come in a range of powers and capacities which may not work with each other. It is best to seek advice from a Gas Safe registered engineer who can assess how best to fit a new boiler to an old system.
New Combi Boiler installation: 4-6 hours
For properties without any boiler, installing a new combi boiler will take around 1-2 days as new connections will need to be made to water and gas mains inlets; however, work will drastically increase should a new central heating system also be required. This level of work will take one to two weeks as the flooring will need to come up and radiators will need to be installed as well as the boiler being fitted.
Change of boiler type: 2-3 days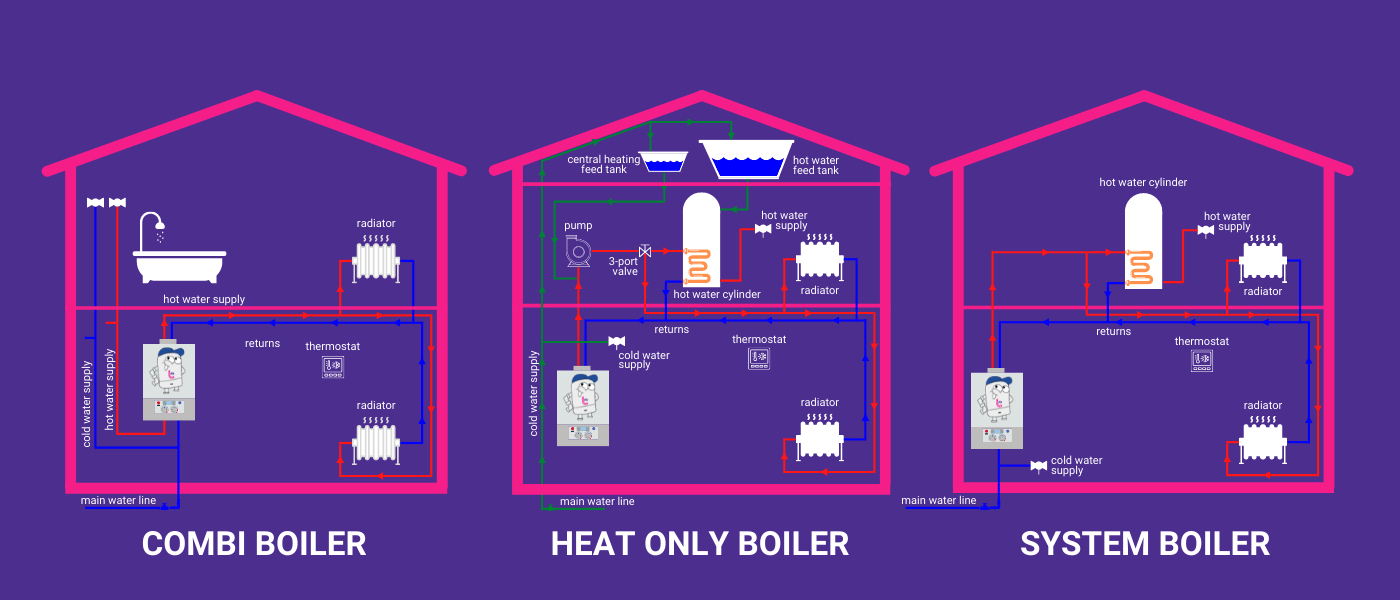 When switching boilers there are three main types to consider for your property:
–          Combi
–          Heat only
–          System
If you intend to switch to a different type to your current boiler then you should be aware that, essentially, this is a new installation and that is reflected in the time it will take to fit. Switching from combi to a heat only or system boiler is likely to be the type of installation that takes the longest as it requires the most changes.
Changing to a system boiler will see you needing a cylinder to hold the water for your central heating. This is usually kept in an airing cupboard or near to the boiler. This type of installation means the flooring needs to be lifted and new pipework laid. A connection to the electricity mains is also required if an immersion heater is to be installed into the cylinder.
Switching to a heat only boiler will require cold water and expansion tanks. An expansion tank needs to be installed in the loft or the highest point in your property as the system works through gravity rather than mains pressure. Due to the level of pipework required, this will further increase the installation time for this boiler type.
Changing from either of these systems to a combi boiler will mean that the installation process will also involve removing unnecessary tanks and cylinders as well as excess pipework. Some choose to leave them in situ in case they ever decide to change boiler type again, but they do take up additional space that many prefer not to lose.
Change of location: 1-2 days
Moving your boiler to another room will require new water and gas pipework as well as electric and thermostat cables to be connected, so this is not an installation that can be completed in a day. Occasionally there may need to be some minor structural work carried out to building frames and walls to fit the flue and overflow.
Additionally, if you require removal of the old boiler this will also need to be factored into the time this task will take.
Change of boiler type and location: 3-4
For boiler installations, changing the type and its location is the largest job that can be undertaken and can take up to 4 days to complete. Work that may need to be carried out includes new pipework fitted, tanks and cylinders installed or removed (dependent on the type of new boiler), rerouting gas, water and electric to the new boiler, new brackets to be fitted and potential changes to building structure.
Change of fuel type: 2-3 days
A change to the fuel type used when installing a new boiler will mean extra plumbing and electrical work is required, even if the position of the boiler is staying the same.
Other factors that affect boiler replacement time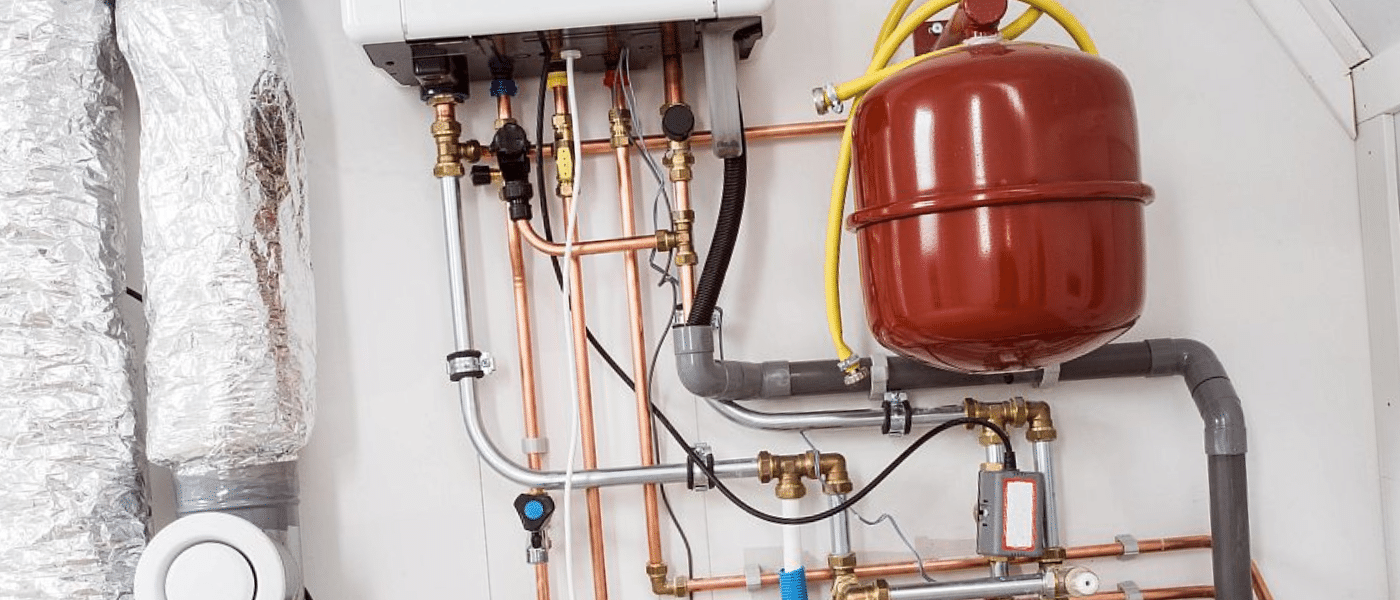 There are some additional factors to consider within the boiler replacement process that may increase the length of time the installation will take. One example of this is if your current heating system doesn't meet gas safety regulations. To help prevent carbon monoxide related deaths in England and Wales, regulations state that gas supply pipes must be a minimum of 22mm compared to the previous size of 15mm. Homeowners with boilers over 15 years old are likely to have non-compliant pipes and due to it being a legal requirement, will need them changed, costing further time and money.
Smart thermostats are an add on that many homeowners opt to install with their new boiler. This type of thermostat will allow you to control your heating from anywhere and save money on energy bills. The installation time will increase as will the cost, but in the long run, it will give you a far more energy efficient boiler.
How long does a boiler last?
Once you've installed a boiler, you may be wondering how long it will last before it needs replacing again. The good news is that the average life expectancy of boilers is between 10 and 15 years; however, to be sure that it remains functional and efficient for as long as possible, a yearly service is recommended.
Servicing your boiler will help to keep it working safely but also helps to cut down central heating costs and improve the energy efficiency of your home which, long term, will help to save you money.
Frequently Asked Questions
What happens when a new boiler is fitted?
Before work begins, the engineer will talk you through the process, but you don't need to stay at home for the entirety of the process if you'd prefer not to.

The old boiler will be cut off from the gas and water supply before being removed and then a clean out of the central heating system will be performed to get rid of any debris inside. 

Sometimes when an installation is carried out, engineers may perform a power flush, especially if the property's system is old. This will cleanse the central heating system to remove sludge, rust or debris that builds up overtime and ultimately leaves you with a far more efficient system.

Pipework will need to be reconfigured to ensure any heat loss from your boiler is minimised and once that is completed, the boiler can be fitted. 

The engineer will connect it to water outlets, the mains supply, the radiators and, if necessary, any tanks required. 

Sometimes additional accessories such as system filters or filling loops are also fitted.

When the boiler has been fitted, your engineer will perform some tests to ensure it is working properly and there are no leaks.

Finally, the engineer will demonstrate how the boiler works and answer any questions you may have.
How much will a boiler replacement cost?
On average, the cost to supply and install a new boiler ranges from £2000 to £4000. The price will vary depending on the engineer rates as well as the type of boiler required and the type of installation it is (i.e. like-for-like). If you live in Birmingham, take a look at this guide to give you an idea of the price.
How long does it take to fix a boiler?
Of course, sometimes, a boiler doesn't need to be replaced and can simply be fixed by an engineer, for example, if there is a small leak. It is important to remember, you must never attempt a DIY job on boilers and always use an experienced engineer who is Gas Safe registered.
Small leaks from the plate-to-plate heat exchanger, pump, pressure relief valve or diverter valve can be fixed and shouldn't take more than an hour for each. Anything larger likely spells the end for your boiler however, and you should consider looking into a boiler replacement instead.
How long does it take to replace an oil boiler?
Oil boilers are a popular choice these days as they are a cheaper and more efficient way to heat your home however, there are more financial outlays to begin with as an oil boiler is pricey to purchase compared to other options. Also, keep a carbon monoxide alarm nearby as oil boilers are at risk of producing this toxic gas.
A like-for-like oil boiler swap can be completed within a day however replacing from a regular oil boiler to combi oil boiler can take as long as 3 days
It is always recommended that you speak to an expert to ascertain what is specifically required for your boiler and home. Contact Boiler Choice and speak with one of our qualified heating experts to start your boiler replacement process today.